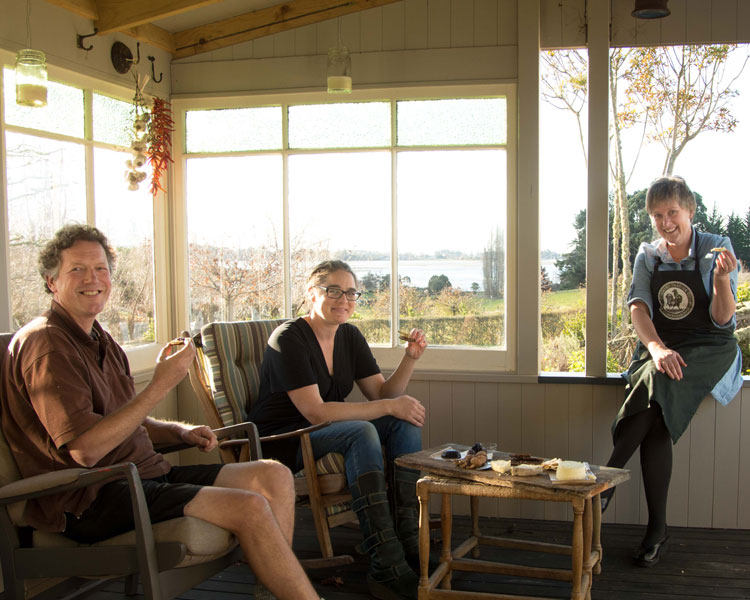 Country Trading Co. Supplier to Growers and Makers

Based in Nelson, Country Trading Co. is a family business founded in 2008 by passionate foodie and gardener, Heather Cole. Their product range grew (literally) from the things Heather needed to live the good life, making cheese, preserving and growing food.
Now well established as the supply store for growers and makers, Country Trading Co. products enable people to grow and make great food at home.
Heather and the team develop recipes and design and source equipment and ingredients. Each product is carefully researched and tested in real gardens and kitchens to ensure it passes the "use it every day" test.
Their new range of home dairy equipment and cultures even involved establishing a starter culture laboratory, affectionately known as the Culture Cupboard, where the team blend artisan live starter cultures for a range of dairy and non-dairy ferments.
Passionate about good food and the environment, much of their product development has a sustainable and clean food focus. Some, like the stainless steel fermenting flask, is designed to help people remove regular plastic purchases from their weekly shop.
Heather has noticed a continued increase in the awareness of food ingredients and origins over the last decade, driving more people to get in their gardens and kitchens and make real food at home.
"Real food can be life-changing, and we get such a kick out of helping people reconnect with the basic acts of growing and making. When someone sends us a photo of their first Camembert we still all stop what we're doing and admire it – it's just wonderful."
The following Country Trading Co. products are available from Moore Wilson's Kitchen & Homewares. Where the product is linked, it is also available online to delivery nationwide:
Organic Cotton Cheesecloth
This GOTS certified organic cotton cheesecloth is easy on the environment and the perfect weave for straining everything from jellies, curds or nut milk to bone broths.  Sourced with care from an organic farm and textile mill this reusable cloth comes in a 1.55m x 1.08m length packed in plastic-free card.

Cheesemakers Foundation Pack
If you are beginning your home dairy journey this pack has the foundation equipment you need. A dairy thermometer, organic cotton cheese cloth and pack of pH strips.  A Foundation Pack and one of the "How To Make" recipe books is the perfect gift for the curious foodie.
Make Your Own Butter & Yogurt Kit
Yogurt and butter are everyday grocery items in many homes. Making them at home opens up a world of possibilities. This kit includes quality equipment, ingredients, and recipes for making everything from cultured butter to spreadable butter, Greek yogurt, probiotic and flavoured yogurts.
Make Your Own Camembert & Brie Kit
Camembert & Brie are perfect introductory artisan cheeses to make at home. They require small quantities of milk and are fast to mature. This kit includes stainless steel hoops, French cheese paper, ingredients and an 82-page recipe book for many different white mould cheeses.
Artisan Butter Paddles
When you make butter at home, these wooden paddles help you work it into little balls or blocks without getting your warm hands involved.  (They are also great for rolling gnocchi).  Made from FSC accredited sustainable wood and packaged in a plastic-free box.
Artisan Cheese Hoop
Traditional, slow-draining, cheese hoops are perfect for making gravity pressed lactic curd cheeses such as Camembert and washed rind cheeses. Each stainless steel hoop comes with two flipping boards to assist with the even drainage.
How to Make Butter & Yogurt
Learn to make consistently fantastic yogurts and butter at home with this 82-page book. Includes recipes for cultured, spreadable and flavored butter and all yogurts from Greek to drinking, flavored and frozen.  Learn about milk, cultures, methods, and equipment for delicious dairy at home.
How to Make Soft Cheese
This 82-page book is like having a tutor in your kitchen, learn the secrets to making over a dozen artisan soft cheeses including recipes for mascarpone, crème Fraiche, cream cheese, cottage cheese, fromage blanc, wood smoked ricotta, paneer and more.
How to Make Camembert & Brie
Learn how to make, age and eat artisan white mould cheeses like Camembert and Brie. With over 20 different recipes and variations, small quantities of milk and short maturing times, this is a perfect introduction to artisan cheesemaking at home.
Stainless Steel Fermenting Flask
This 1-litre capacity flask includes a glass jar with stainless steel storage lid and full instructions on how to ferment dairy and non-dairy yogurts at home. It is also perfect for culturing butter and soft cheeses such as crème Fraiche and cream cheese.  A plastic-free product.  Click here to watch a YouTube video of the Fermenting Flask in action.
Dairy Thermometer
Temperature is important when culturing dairy products at home. This dairy thermometer comes complete with a cardboard tube to protect it's calibration when it is rattling around in your kitchen drawer. A plastic-free product.
Specialist Cheese Paper
Cheese is a living thing, and these generous squares of French specialist cheese paper are engineered to let the cheese breath and the rind develop as the cheeses mature. Each pack contains 16 sheets of paper, 18 labels and sealing stickers (two extras for muck ups).
Soft Cheese Baskets (set of 5)
This set of 5 Italian Soft Cheese Baskets are designed to drain a range of soft cheeses like Ricotta, cottage cheese, crème Fraiche and quark. The set includes 3 round and 2 square baskets of different shapes and sizes to match to cover the most popular soft cheeses.
Cheese Storage Box
The refrigerator is not a friendly place for cheese. This cheese storage box lets you mature and store cheeses in the refrigerator in a humid environment with enough airflow to let the cheese breathe. The cheese box is an essential product for makers and lovers of good cheese.
Natural Sea Salt
This brining and pickling salt is an unprocessed raw salt, extracted by solar evaporation of sea water in Marlborough. It is free from anti-caking agents and iodine which makes it great for use in brines, cheeses, ferments, cures, and pickles. Because it is unprocessed, it retains high levels of minerals.
Seed Saver Envelopes
A perfect gift for growers! A pack of 20 envelopes for saving seeds with a guide to write where and when each seed was gathered. Each pack includes notes on heirloom seeds and how to save them. Plastic-free product made from recycled paper.
Because they need to be kept chilled, Culture Cupboard products can be found in the freezer of Moore Wilson's Fresh:
Culture Cupboard – Probiotic Yogurt Culture
The Culture Cupboard® generous ten pack of probiotic yogurt culture contains four strains of lactic bacteria and probiotics to make fresh yogurt at home. Each pack makes 1-2 litres of thick, tangy yogurt, bursting with bugs.
Culture Cupboard – Thick & Creamy Yogurt Culture
The Culture Cupboard® ten pack of yogurt culture makes 1-2 litres (1-2 quarts) per pack of thick, creamy yogurt. This culture is the one for those who like a seriously thick, mildly flavoured yogurt. Perfect for smoothies, dips, cooking, kiddds and creamy breakfast pots.
Culture Cupboard – Soft Cheese Culture
The Culture Cupboard® five pack of Soft Cheese culture contains five sachets; each makes 4 liters of milk into a wide range of soft cheeses. A blend of four different culture strains for use in everything from Feta to Cream Cheese and Cultured Butter.
Culture Cupboard – Vegetarian Rennet
The Culture Cupboard® five pack of Vegetarian Rennet contains five sachets; each makes 6 litres (6 quarts) of milk into a wide range of soft and hard cheeses.  We use this rennet because it creates no bitterness in the finished cheese and it is also the rennet of choice for several of our favourite artisan cheesemakers.