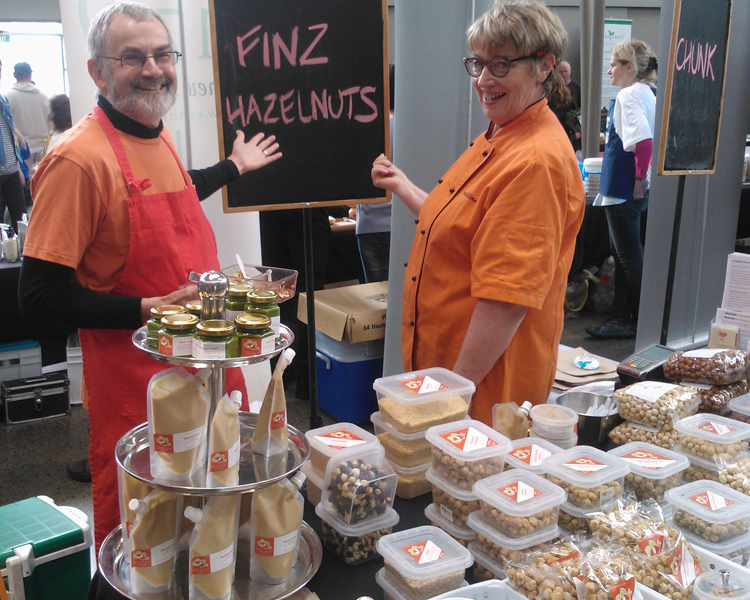 FINZ Hazelnuts

Husband and wife team John and Geraldine Findlay started their Lower Hutt hazelnut business 'FINZ' at the beginning of 2014.
FINZ are a family business specialising in high quality hazelnuts and baking products from nuts grown in New Zealand. The name "FINZ" is an acronym derived from their registered company name Filbert Industries New Zealand Limited - 'Filbert nut' being a common European and international name for hazelnuts.
FINZ source in-shell nuts from growers in the lower North Island (Rangitikei, Manawatu and Wairarapa) and crack these in their Lower Hutt factory using a specialised machine imported from Italy.
FINZ nuts are predominantly (99%) the whiteheart variety grown in New Zealand for their excellent kernel flavour and their ability to readily blanch (skin removal). FINZ remove the skin mechanically and produce fresh high quality products that show-case this amazing nut that has some of the best health properties of any tree nut.
Why eat Hazelnuts?
Hazelnuts are well known for their high Vitamin E content which is very important for healthy muscles including the heart muscle, and for the normal function of the reproductive system.
They are also an abundant source of iron, zinc, potassium, calcium and Vitamin B1, 2 and 6.
Just some of the health benefits of including hazelnuts in your diet include a reduced risk of cancer, cardiovascular disease, high blood pressure, strokes and depression. They also support healthy function of your eyes, skin, hair and nails.
For more on the health benefits of hazelnuts, pay a visit to the FINZ website!
New to Moore Wilson's Fresh are a range of FINZ Hazelnut products including:
Raw Whole Whiteheart Hazelnuts Premium grade, freshly shelled North Island hazelnuts.
Hazelnut Butter Roasted hazelnuts stone ground to a smooth liquid with no additives. Has a sweet nutty taste. Can be used as a spread (like peanut butter); makes a lovely topping over icecream; can be thickened with lemon juice and a little garlic to make a tasty dip.
Chocolate Coated Hazelnuts Delicious hazelnuts grown in Wairarapa dipped in 46% dark chocolate.
Hazelnut Cinnabons A sweet treat, after dry roasting the nuts are coated with praline and rolled in cinnamon sugar.