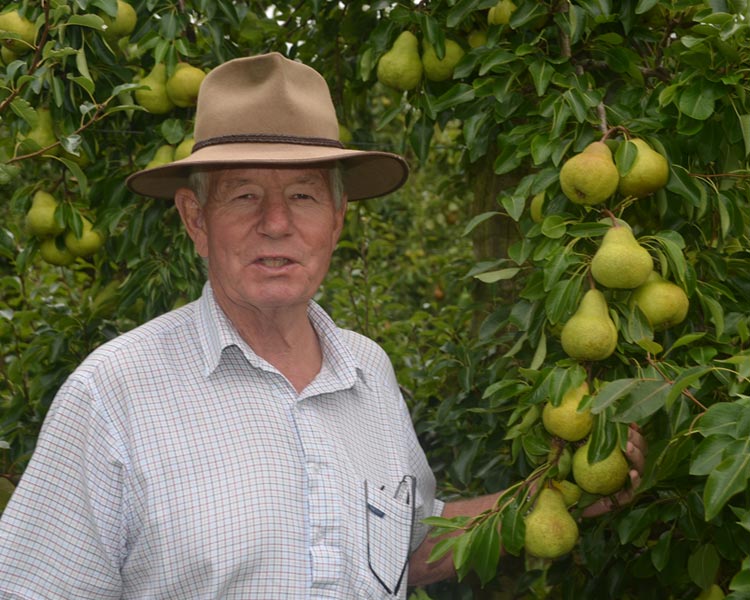 In Season: Good Boy Pears

Good Boy Pears are grown by Otaki Orchards in the Horowhenua Region – owned by Murray and Christine Gibb.
The Horowhenua region has long been recognized as one of the finest areas in New Zealand for quality pear production.  Blessed with a temperate climate, fertile soils and even rainfall throughout the year, conditions in the area are ideally suited for horticulture.
Otaki Orchards' 30 year old, 2500 tree orchard on the Ohau floodplain sits on three metres of highly fertile silt loam. Combined with a gentle climate this provides ideal growing conditions for the fruit.
The horticultural industry is highly regulated with the aim of providing assurances that produce is fit for purpose and production is sustainable.  Otaki Orchards is fully certified under the New Zealand Good Agricultural Practice (NZGAP) accreditation system.
The yearly pear-growing cycle begins with winter hand pruning which takes two months. Beehives are brought into the orchard during the short pollination season in the spring.  Some pears are self-pollinating, but the addition of other varieties into an orchard block increases the chances of pollination and improves yield.
From late November through till February workers are continually hand thinning the crop. This is necessary because each fruiting bud produces up to seven flowers, each of which can grow into a pear. Large thin skinned varieties like Taylors Gold are thinned down to singletons. Buerre Bosc and Packhams are thinned to bunches of three or four.
From mid-February pears are tested for ripeness, measuring starch levels, brix (sugar) and the pressure in the fruit.  This year has been a difficult season. The wettest spring on record was followed by the coolest summer in 30 years. Harvesting didn't start until well into March – much later than normal.
Four varieties are grown in the orchard:
Taylor's Gold – rich, sweet flavour and creamy flesh. Holds its shape beautifully when cooking. Put them in a sauce with meats or in a pie or tart.

Bosc – the dense flesh stays crisp and moderately sweet. Great eating and recommended for cooking.

Packham – really robust, a delicious crisp and fleshy pear great for eating. A family favourite in lunch boxes but also well-suited to cooking.
Winter Nelis - these arrive later in the season. While they are mainly grown as pollinators, their sweet juicy flavor and buttery texture is sought after by pear
aficionados.
Pears are picked for ripeness based on sweetness and pressure tests. After harvesting the fruit are, 'cool-stored' at minus 1°C for a period, which prepares it for physiological ripening.
Remember, pears do not fully ripen on the tree. If you prefer riper fruit, store at room temperature for up to 10 days after purchase. Different people like to eat their pears at varied stages of ripeness. Some like well a soft well ripened pear with plenty of juice flowing with each bite. Others prefer to eat their fruit earlier at a more crunchy stage.
Experiment with the pears you have bought and find out which level of ripeness suits your taste buds.
If you want to speed up ripening, put your pears in a brown paper bag with other ethylene producing fruit such as apples or bananas.  Pears will keep for several weeks under refrigeration.
Otaki  Orchards staff have worked very hard to produce quality fruit and despite a trying season they're very proud to present this years' crop for you to enjoy.