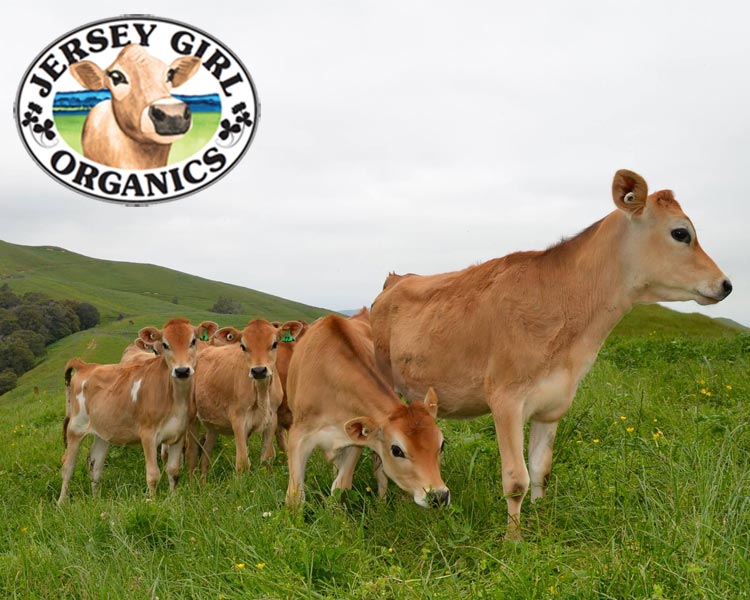 Jersey Girl Organics

The Vosper family has been farming on Cleavedale farm in Matamata for 5 generations.
The farm was set up by Cleave Vosper, who first introduced Jersey cows to the district back in the early 1900s. It is now run by Cleave's great-grandson John Vosper along with his wife Liz, son Michael, and sister Mary.
Together, they produce a 100% jersey milk under the brand Jersey Girl Organics.
Each cow in their herd of pedigree Jerseys is individually named and their comfort and wellbeing is paramount. The Vospers beloved Jersey herd grazes on organic pasture and, when necessary, their diet is supplemented with hay, silage and maize cut from the paddocks.
Jersey Girl Organics golden milk is high in important Omega 3 and A2 Protein. Its smooth taste is delicious when drinking cold, in hot drinks or in your favourite recipes.
Jersey Girl milk is pasteurised to eliminate bugs. It is not homogenised (the process of breaking down fat molecules in milk so that they resist separation) and because of this the cream will separate and rise to the top. Either tip the cream onto your cereal before others get to it, or shake gently before opening.
Jersey Girl milk is audited to strict organic standards. You can be sure that the milk is free of antibiotic, herbicide and pesticide residues. The Vospers are committed to organic practices stating that "in a world where so many want to rush minimise or lie we believe in patience, generosity, honesty and doing all that is needed to let nature work her magic."
This is most definitely a labour of love, with the Vospers admitting that they're hoping to break even after two years and, right now, would be better of pumping all their milk into a Fonterra tanker.
Luckily for milk lovers, they're dedicated to be supplying farm fresh milk that tastes like the good old days.
Straight from the farm and deliciously creamy, Jersey Girl Organics is a must try!
Available from Moore Wilson's Tory Street Fresh Market. Delivered fresh from Matamata every Wednesday.