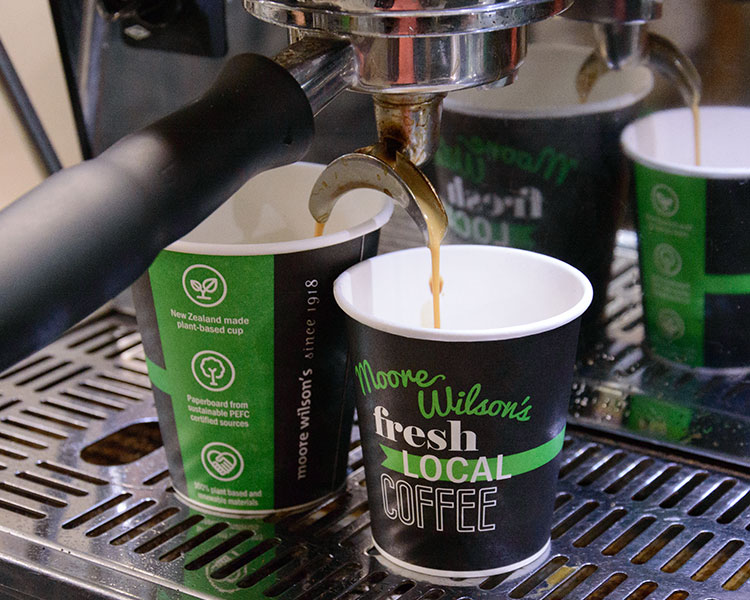 NEW Plant-Based Renewable Takeaway Coffee Cups

Often people focus on the end-of-life processes around takeaway coffee cups and unfortunately there is no perfect solution available in New Zealand at present. For a cup to be recyclable, the lining on the paperboard needs to be removed and NZ Waste management facilities are not set up to do this. Until a solution is reached, companies like Huhtamaki are putting the focus on the entire life cycle of a cup to create the most sustainable option possible.
Huhtamaki is part of a packaging group established to continually work towards offering environmentally friendly packaging options that will work within the existing waste management infrastructure.
The new Moore Wilson's Huhtamaki Future Smart takeaway coffee cups have the following features:
100% plant based and 100% renewable material
Made of 100% renewable plant-based materials and contain no carbon content older than 100 years as verified by the 14C carbon dating method. Even the inks used to print on the cups are plant based.
Cup lining made from plant
Future Smart paper cups replaces fossil oil-based polyethlyne with a sugarcane plant-based coating.  This protects paperboard fibers against moisture and assists with high quality sealing of the paper cup, while using 40% less coating material than PLA based cups. Future Smart paperboard is also 100% GMO free.
Paperboard from sustainable PEFC certified forests
Future Smart cups are made of paperboard from PEFC certified renewable sources. An international non-profit organization dedicated to promoting sustainable forest management, the Programme for the Endorsement of Forest Certification is the certification system of choice for small forest owners.
NZ Made
Less shipping/transport results in a reduced CO₂ footprint compared to cups produced offshore. Confidence in Chain of Custody (PEFC) for sourcing paperboard.
Moore Wilson's has chosen to move to Future Smart cups to provide our customers with the most sustainable takeaway cup option currently possible. Bringing a reusable cup for your daily coffee remains the more environmentally friendly option and we encourage our customers to do so.
For our trade customers wishing to move to Future Smart in their cafes, bulk packs of plain Future Smart coffee cups are available in our Foodservice Department.