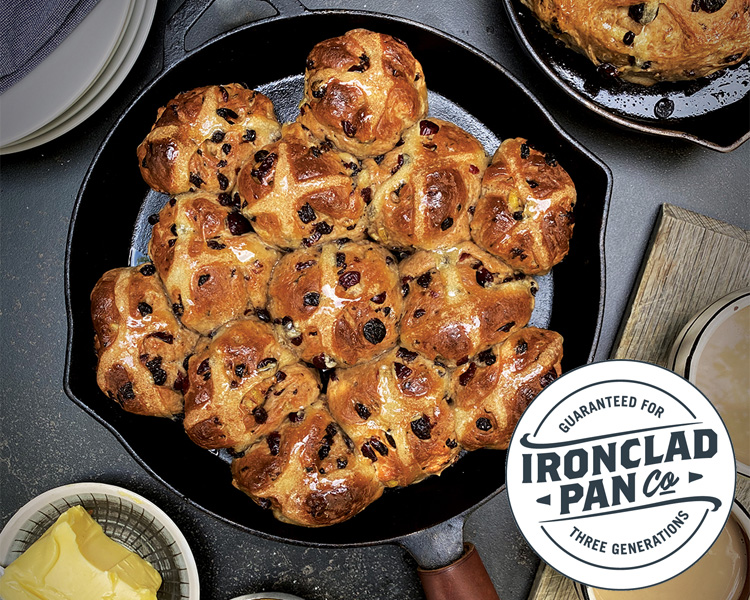 Spiced Cranberry and Currant Hot Cross Buns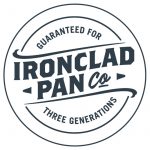 Recipe shared by Ironclad Pan
for more recipes from Ironclad click here.
The Ironclad Pan Company
Cookware made in Aotearoa
https://www.ironcladpan.com/
INGREDIENTS
INGREDIENTS 
¾ c milk plus a little extra
1 t black cardamon seeds or 8 cardamon pods squashed
3 inch cinnamon stick in bits
2 star anise
5 black peppercorns
1 T yeast
1 T flour
¼ c brown sugar
1 c dried cranberries
1 c dried currants
½ c glazed mixed peel
2 small eggs
1 t vanilla essence
100 g soft butter
3½ c strong white flour
2 T mixed spice
½ t salt
PASTE
½ c water
½ c flour
¼ t salt
GLAZE
2 T maple syrup
INSTRUCTIONS
METHOD 
Bring milk, cardamon, cinnamon, star anise and black pepper to the boil in a small saucepan. Turn off the heat and let steep for 15 minutes.
Blitz the milk and spices in your bullet on high speed till the spices are finely ground. Measure the milk and spices mix and top up with extra milk to make three quarters of a cup in total.  *** you can blitz the whole green cardamon pods.
Heat milk and spices to just warm and sprinkle yeast, 1 teaspoon of the brown sugar and 1 tablespoon of flour on top and leave in a warm place for 5 – 10 minutes till frothy.
Beat in the egg then add dried fruit, peel and vanilla and leave to soak for 10 minutes.
Stir the softened butter, 3 cups of flour, salt, and the mixed spice into the wet ingredients.
Sprinkle remaining half cup of flour onto the bench and tip sticky dough onto this and knead for 10 - 15 minutes till dough is shiny and elastic. Add more flour if the mixture is sticking to the bench.
Form into a ball and place in a lightly oiled bowl covered in a tea towel. Leave to rise in a warm place till doubled in size. This might take a couple of hours depending how warm the day is. If it's cold, place the bowl in the oven with just the light on. This will provide enough warm for the dough to prove.
Tip dough onto a lightly floured bench and knead for 10 minutes. Poking in any dried fruit that escapes! And adding more flour if it gets to sticky. The dough should never get dry and crumbly.
Form the dough into a ball and chop into 4 equal quarters. Place one quarter to the side. Chop remaining 3 pieces into 4 pieces each to from 14 equally sized dough balls. Arrange 12 of these balls in your lightly greased Ironclad Pan. And add the left over 2 balls to the quarter you put aside earlier.
Mix flour and water paste together, stirring well to remove all lumps and pipe a cross pattern on top of the buns.
Leave to rise for an hour in a warm place
With the extra dough, form into large dough ball, place on a greased baking tray or Lil' Legacy Pan, pipe a cross on the top and leave to rise for one hour.
Bake at 180°C for 30 minutes for the little buns and an extra 5 – 10 minutes for the larger bun.
Remove from oven, brush with maple syrup and serve immediately with lashings of butter.