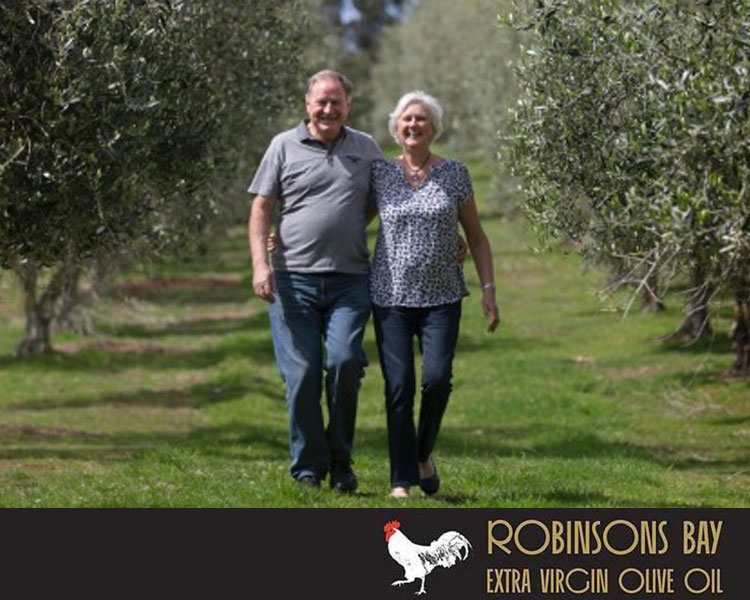 Robinsons Bay Olive Oil

Here at Moore Wilson's Fresh we place a great importance on supporting our talented local producers, which is why you'll find predominantly Wairarapa olive oils on our shelves. We went slightly further afield when it came to Akaroa's Robinsons Bay Olive Oil - the newest addition to our range and our only olive oil from Canterbury.
One of New Zealand's most awarded olive oil producers, Robinsons Bay Grove Blend Extra Virgin Olive Oil has taken out the prestigious title of Best in Show at the Olives New Zealand EVOO awards in four out of the past five years.
Robinsons Bay are one of the southernmost olive groves in the world. In terms of New Zealand production, Canterbury are a relatively small player, with the bulk of olive trees being in Hawkes Bay followed, at a distance, by Auckland, Northland and Wairarapa.
The Robinsons Bay olive trees were planted in 1994 in the unique climate and rich soil of the Banks Peninsula. Owners Chris & Annette Moore took over the grove in 2006 armed with knowledge predominantly from 'the internet and a few good books'. The semi-retired couple were thrown into their first harvest, a back-breaking 24-day slog that includes manually shaking showers of plump olives from tall trees, collecting them and trucking them to Waipara for processing.
There are seven different varieties of olive trees in the Robinsons Bay grove. From Tuscany there are the peppery and green Frantoio and Leccino varieties. From the dry hills of Israel, Barnea and Souri as well as Nabali from Palestine, Manzanillo from Spain and Verdale from South Australia.
Each variety has its own unique character and flavour, and a delicate blending operation is required to ensure their blended olive oil has a perfect balance and taste. Chris and Annette quickly became dab hands, blending the oil themselves, mixing and matching using on their own judgment and feel for the product.
As well as producing their award winning Robinsons Bay Grove Blend extra virgin olive oil (awarded a Gold medal, Best in Class and Best in Show in The Olives New Zealand Awards 2016, 2015, 2013 and 2012), they also infuse high quality extra virgin oil to produce versatile infused oils. Two flavours, Mandarin/Lemon and Olive/Chilli, are available from Moore Wilson's Fresh.
Olives New Zealand 2016 New Zealand Extra Virgin Olive Oil Awards
Look out for these award winning olive oils at Moore Wilson's Fresh:
Robinsons Bay Grove Blend Extra Virgin Olive Oil (Akaroa)
Best in Show, Best in Class – Commercial Medium Blends, Gold Medal
Juno Blood Orange Olive Oil (Greytown)
Best Flavoured Oil, Best in Class, Gold Medal
Left Field Olives Barnea Blend (Martinborough)
Best in Class – Boutique Blends, Gold Medal
Loopline Leccino (Masterton)
Best in Class – Commercial Intense Single Varietal, Gold Medal
Weka Frantoio (Nelson)
Gold Medal