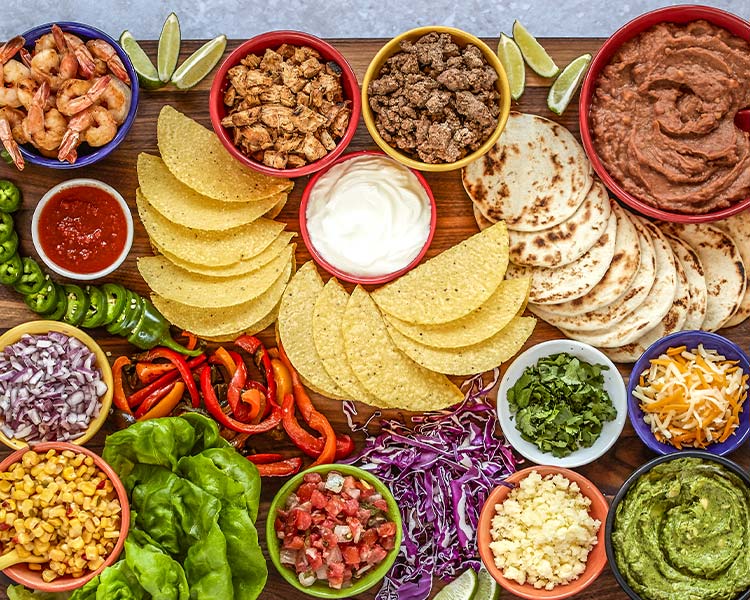 Sharing Boards

Sharing boards are a simple, effective and delicious solution to feeding a crowd. Whether it's as a starter to a meal, nibbles for drinks or a casual luncheon, you can tailor a board to suit any occasion.  Below are some tips and hints for creating great grazing boards:
Pick a theme. Choosing a single theme or cuisine keeps the flavours cohesive. Remember to also factor in any dietary requirements that might dominate the group to make it easier to cater for everyone. When you have settled on a theme, think of different colours, flavours and textures to bring it together
Serving. Choose a large board and, where necessary, bowls for dips, small jars to hold dressings or wide mouth ones to hold vege sticks or grissini.  Don't forget to have appropriate side plates or napkins depending on the food and a range of wooden picks, forks or bamboo boats (all available from our Foodservice warehouse and Variety departments).  Keep in mind a place for left over toothpicks/olive stones or other rubbish to keep the area tidy.  Think about how things will be eaten - bite size works best so pre-cut any meats or veges to avoid people having tear things apart or double dip!
Volume. Think about how long the platter needs to last, is it for a few hours or to be cleared away once finished?  You may need product to top up dips or components, this is easiest to be prepped and ready in an easy to serve format to top up the platter rather than removing it to re-dress. Think of extra dips in ready to serve bowls to switch in, drain any liquids in advance, pre-cut and store vege sticks etc. so you can stay with your guests.
At Moore Wilson's we have a huge range of ready to serve products to create your platters.   If you are having a large gathering or a few in short succession consider some of our bulk products in the Foodservice warehouse for even better value at the same quality as you will find in our Fresh Market.  We know how daunting it be to feed a crowd so following are some suggestions to get you started:
Greek  Dolmades (rice stuffed vine leaves), fried Zany Zeus Halloumi, feta (marinated if you wish - dice, drizzle with olive oil, a few herbs and chilli flakes), The Olive Lady Chargrilled Capsicums, Olive Lady Olives, Elysian Taramasalata Dip, toasted Gianni Pita Bread.
Middle Eastern Kaikoura Labne, hummus topped with olive oil and your favourite dukkah, Alamir Pita Bread, carrot sticks, falafel bites (buy premade or make your own from premix), tahini dressing/dip,  fresh dates, lamb seasoned with ras al hanout (either cubes of leg or small cutlets work well).
Italian Sopressa salami, prosciutto wrapped rockmelon, D'amico Chargrilled Artichokes, fresh cherry tomatoes, Massimos Cherry Bocconcini, Genoese Basil Pesto Dip, sourdough bread, Grissini, Arancini Balls (available in the freezer premade from Italy), Pecorino Romano, Ghiotti Olives.
Mexican Corn chips (choose a couple of different shapes/colours), fresh guacamole, Tio Pablo Salsa and Pepitas, Baron Corn Snacks, Mini tacos –  e.g. a tortilla with shredded chicken, iceberg lettuce and chilli and lime flavoured mayo, The Olive Lady Pickled Vegetables, fresh cherry tomatoes, chargrilled fresh corn (sliced into 2 cm pieces through the core).
Vegetarian Cheese stuffed peppadews, Kaikoura Tartinade, Lisa's Spinach Feta Dip, carrot and celery sticks, radish, blue cheese drizzled with honey, sliced baguette, Moore Wilson Roasted Almonds, Seed Crackers, stuffed olives, Aromatics Smoked Mushrooms.
Seafood Regal Hot Smoked Salmon, marinated mussels, Wakelin House Aioli, The Smokehouse Salmon Pate, fresh cucumber spears, Crostini, Marcels Blini, zucchini sliced thin with lemon and dill, fresh oysters in season or mini whitebait fritters, individual shrimp cocktails work well in mini bamboo cups/boats. Decorate with plenty of fresh lemon wedges.
Chacuterie Poaka Salami Stick sliced, biersticks, hot sopressa or chorizo, Woody's Mortadella, L'Authentique Pate, rye bread (sliced and toasted), Meyer Aged or Smoked Gouda, Maison Therese Pickled Onions, Acme Bread and Butter Pickle, Zoe's Beetroot Relish, Maille Grain Mustard.
Dessert Fresh berries, dates, grapes, pineapple,  MW Dried Pears, squares of your favourite chocolate, Hogarth Marshmallows, Clareville Ginger biscuits, Levantine Choc Ginger Dates, Bohemein Truffles, Pure Wei Macarons.
Image: Taco platter from Beautiful Boards: 50 Amazing Snack Boards for Any Occasion by Maegan Brown. Copies available from Moore Wilson's Wellington Books for Cooks.