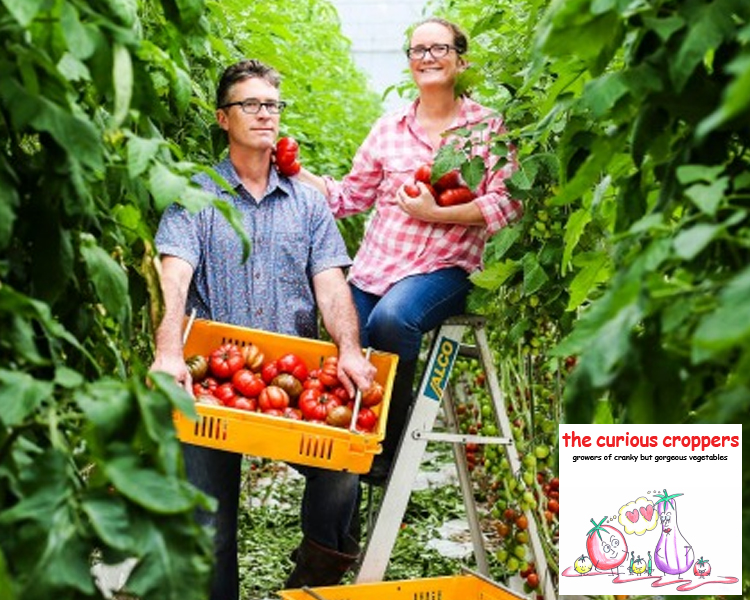 The Curious Croppers

Growers of cranky but gorgeous vegetables.
Anthony and Angela Tringham, together with their two children, Max (13) and Olivia (9), are the 'Curious Croppers'.
The Clevedon based family business produce a range of heirloom tomatoes, their sense of humour shining through as they name variety according to it's 'personality'.
The Curious Croppers first started selling their tomatoes at the Clevedon Farmers Market, taking feedback from customers to change and grow their range.
They then started supplying restaurants and in 2013 became a supplier of Moore Wilson's Fresh.
Max and Olivia work with their parents selling vegetables on Sunday.  Max knows all about the picking, packing and selling of our products.  He wants to be a vet when he grows up.
Olivia knows the name and flavour of everything and can tell you the difference between a little horror and a little rascal.  On a quiet day she's put in charge of customer feedback.
Curious Croppers tomatoes are loved by home cooks and chefs alike. This summer staple is popping up on the menu of top restaurants in some quite extraordinary forms.  Sean Connelly's The Grill is serving Curious Croppers tomatoes with passionfruit and a sweetened goat's milk pudding while Simon Wright's The French Café has paired the heirlooms with crayfish and fresh lemon ricotta.
Once of Anthony and Angela's favourite use for their tomatoes is a simple but stunning Caprese Salad. Made up of halved Summer Medley cherry tomatoes, torn fresh buffalo mozzarella, basil, salt and pepper and extra virgin olive oil. This is a dish where the ingredients truly sing to each other.
If you're trying Curious Croppers for the first time pick up a Summer Medley pack which contains five unique varieties:
Little Miss Sunshine –  sweet and addictive
Black Morris – Loud, tannic and out there
Red Kiss – A  soft, red merlot
Orange Blossom  – Blousy, rubenesque, and tropical
White Doris – Soft, subltle sublime