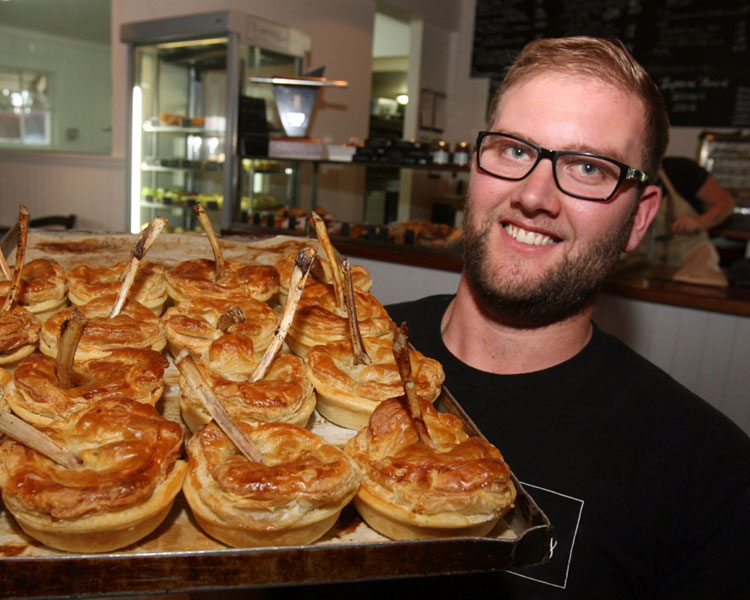 Clareville Bakery & House of Dumplings Pop-Up Food Pods

Two top local producers are popping-up for Wellington's biggest foodie fortnight!
Moore Wilson's Tory Street
Pop-Up Food Pods
Monday 14th - Sunday 27th August 2017
Pod 1: Clareville Bakery
We're bringing Clareville Bakery's award-winning pies to Wellington!
Located on SH2, just outside of Carterton, Clareville Bakery is popular pit-stop for both locals and Wellington/Wairarapa commuters. The charming building, previously a church and community hall, is now home to one of the Wairarapa's top cafes.
Michael and Rose Kloeg have run the Clareville Bakery since 2013, taking out numerous awards over the four years, including WOAP Supreme Producer of the Year 2015 and Rural Café of the Year 2016. In 2014 they were awarded Bakels NZ Supreme Pie Award for their Kumara and Lamb Cutlet Pie – an amazing feat with over 500 entrants vying for the title. In August 2017 the lamb cutlet pie was judged as the 3rd best Gourmet Pie in NZ in the same awards.
PIE MENU:
Steak and Red Wine $7
Mince and Cheese $7
Vegetarian $7
Lamb and Kumara $7
Lamb Cutlet, Rosemary, Lemon & Kumara $12
HOURS:
Monday to Sunday 10.30am - 2.30pm (or until sold)
Photo: Mike Kloeg with his winning Lamb Cutlet Pies from Wairarapa Times Age.
Pod 2: House of Dumplings
Vicky Ha lives and breathes dumplings. When she's not making busy dreaming up new flavours or making dumplings by hand in her Taranaki Street store you'll see her biking deliveries around town or getting ready for the local markets. You might think one would get sick of the sight of dumplings but not Vicki – they're her ultimate in comfort foods and once you've tasted House of Dumplings you'll understand why!
Growing up in Hong Kong, Vicki was taught the art of dumpling making by her Mum. To this day she uses the traditional recipes and techniques passed down from generations of dumpling makers.  House of Dumplings use 100% natural, free range, and MSG free ingredients. They also put a strong focus on using local ingredients - free-range pork from Wairarapa and flour milled across in Seatoun.
MENU:
Panfried Dumplings $2
Cantonese free range Chicken and Fresh Coriander
Shanghai Pork and Savoy Cabbage
Prawn and Garlic Chives
Nepalese Spiced Lamb and 5 veges
Korean Beef and mung bean Sprouts
Spinach Tofu and Bok Choy - vegan
Japanese Six-Mush - vegan
Meal Pack $16.50 - 5 dumplings, scoop of rice, small salad
Rice $2 - brown & red, white
Noodle Soup $8 - Green Tea Soba w Greens and homemade Chicken Stock
HOURS:
Monday to Friday 10:30am - 3:00pm
Saturday to Sunday 10:30am - 4:30pm