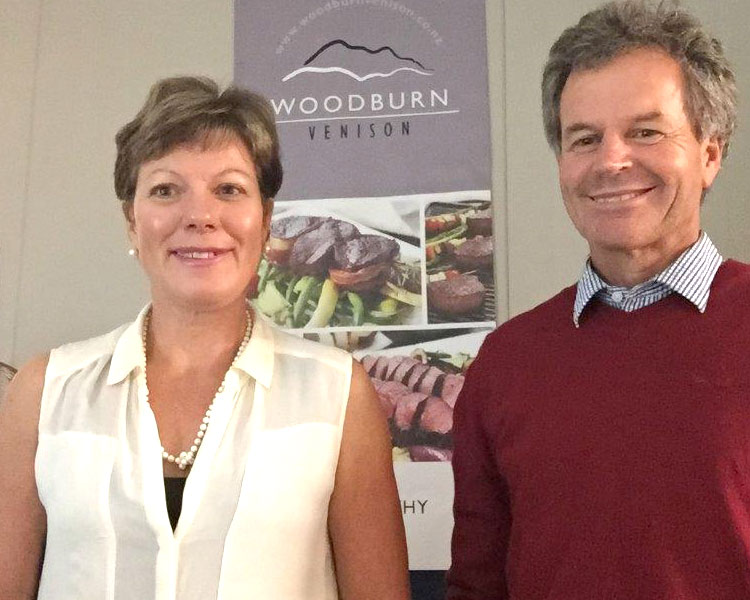 Woodburn Venison

The venison you'll find at Moore Wilson's Fresh comes from Hawkes Bay's Woodburn Venison, run by husband and wife team Tony and Sally Haslett.
The Haslett's joint farming story began when Tony and Sally started their own small herd on Tony's parents deer farm in the in the 1980s. The 90s saw them move to their own 150ha farm and increase the herd to 500 hinds.
In 1996 they won Hawkes Bay Farmer of the Year – the first time the award had gone to deer farmers. Going from strength to strength the Haslett's upsized again, this time to a 243ha farm at Kimbolton, Manawatu with 1200 hinds. At this stage the bulk of their venison and velvet was exported, as venison was still perceived to be a meat you'd only see on 'high-class' restaurant menus, not something the average kiwi would cook up for dinner.
In the Manawatu they faced two seasons of summer drought followed by wet winters. Add to this plummeting deer prices due to competition in the export market and the decision was made to sell up and move back to the Hawkes Bay.
Disheartened but determined to stay in the deer game the Haslett's went down a different track - 'pasture to plate'. They bought another small farm and began getting their venison packaged into retail packs for the NZ market. Their first customers were friends and family via mail order, followed by a local farmers market where sales really took off. Sally began packaging cuts at a Napier butcher's shop to keep up with demand.
It was a few months after this that Woodburn popped up on Moore Wilson's radar. We tried a few samples, placed a large order and the rest, as they say, is history!
Woodburn continued to grow, moving to bigger premises and employing a number of full and part time staff.
Starting off with quality cuts like leg fillets and steaks, the Haslett's realised they'd have to start making use of the lesser cuts or the 'trim'. They began producing handmade sausages, burgers and meatballs which quickly took over as their top sellers.
In 2004 they found themselves unable to source enough trim to keep up with demand. A chance phoencall from Hasting's Cerco and Firstlight found them a reliable supplier of trim. The relationshio worked so well that, two years later, they made the business decision to sell their own farm and source all their venison from Cerco and Firstlight.
You'll find a range of Woodburn Venison products at Moore Wilson's Fresh including Denver leg, Denver steak, leg fillet, chipolatas, meatballs, mince, patties, diced venison, shanks, and osso bucco.
Sally also regularly visits for in-store tastings and to share her knowledge – she loves introducing new customers to the great taste and health benefits venison can bring to everyday meals!
One thing is for sure, while the Haslett's may have changed their focus from farming to processing, their passion and commitment to New Zealand farmed venison and of the Woodburn Venison brand, remains as strong as ever.
Did you know… New Zealand venison is rich in iron and low in fat. It is a nutrient dense food meaning it is packed full of vitamins and mineral. Venison contains both more iron and protein than beef and lamb.