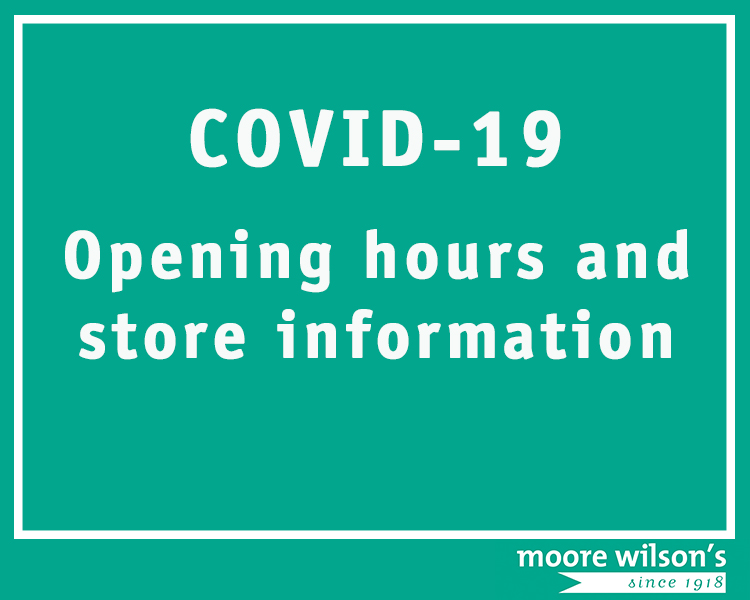 COVID-19: Opening Hours and Store Information

To our loyal customers,
As you are aware, New Zealand is on Alert Level 3 and moving to Alert Level 4. To enable our continued services we have put a few measures in place, including reduced opening hours and restricting customer numbers in our stores.
We will remain open
Moore Wilson's is open. Grocery and Fresh are essential services and will remain open. We have reduced our hours until further notice. Each store has its own opening hours. Please see the Locations & Hours page for our stores opening hours.
Please follow safety protocols
Please comply with all safety measures for distancing and follow all signage and staff direction to ensure all protocols are adhered to.
Two metre separation between yourself and others
We are restricting the number of customers in store
To minimise numbers in store, please shop alone if possible
Space indicators on the floor to keep safe distances
Please respect staff requests to move to allow distancing
If you are unwell and/or are in the 14 day self-isolation period please do not enter our stores
Closures
All Wine Beer and Spirit stores are closed. Wine and beer are available in Tory Fresh and Porirua and Masterton Grocery.
All takeaway food pods, Chook Wagon and O'Sushi are closed.
All coffee bars are closed except for grinding beans.
Our online store is temporarily suspended while we focus on getting food and essentials to our customers in store.
Stock Availability
New stock is coming in daily. Each day we are getting deliveries for fruit, vegetables, bread, coffee, meat and dairy, as well as other grocery needs. Please only buy what you need to ensure everyone has fair access to their grocery essentials.
We thank you for your ongoing support and we encourage everyone to be kind and considerate during these challenging times.
Last but by no means least, a huge Thank You to all our staff serving in store and  working behind the scenes. Without our dedicated and passionate team we could not operate. Please be kind and respectful to them whilst you are in our stores.
We have serviced Wellington with food for over 100 years and plan to continue to do so as we navigate through this period.
Stay safe,
Graeme and Julie Moore