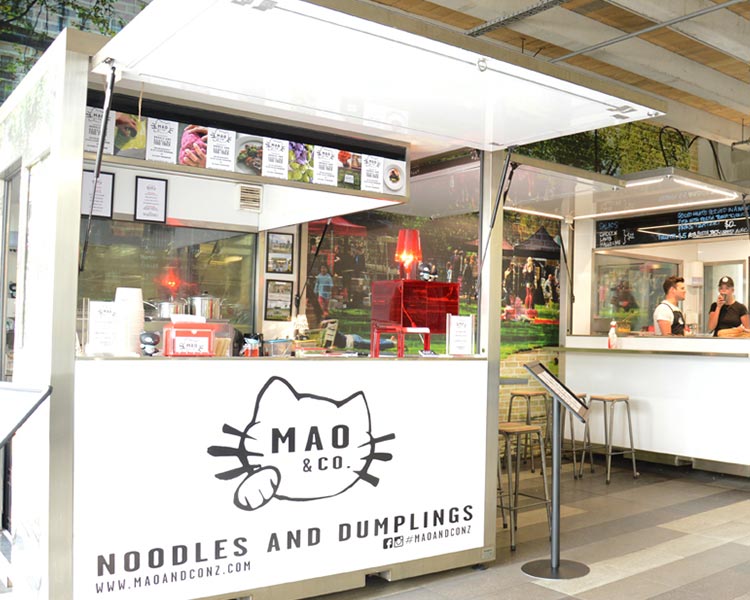 Joining the Chook Wagon and Miki Sushi, Pop-up Food Pods are the latest addition to our takeaway food offering! 
Located in the Piazza at Moore Wilson's College Street, Food Pods provide a chance for local artisans to 'pop-up' for a limited time and share their take on street food direct to the Wellington public. Here's what's on right now:
Pod 

1: Smoothie Operator

New to the Wellington food scene, Smoothie Operator are bringing healthy breakfast and snack options to the masses.
Stop by the Moore Wilson's Tory Street Pop-Up Food Pods this week for a quick and tasty breakfast on the go or grab a smoothie (dairy free available) for your afternoon pick-me-up. All item can be pimped with a range of extras including ground chia, dutch cocoa, turmeric, psyllium and almond milk.
Caring not only for your health, Smoothie Operator are doing their bit for the environment too – using 100% biodegradable and compostable cups and lids.
POP-UP MENU
Smoothies
$7 each or $12 for 2 of the same flavour
View full list of flavours here.
Breakfast & Snacks
Crunchy Granola Sweet Cup $7
Fresh Fruit Salad Cup $2.50
Chia Le Buff $6
Chia seeds soaked in coconut cream with vanilla, cinnamon, fresh fruit and toasted nuts
Smack yer bircher cup $6
Soaked oats, chia seeds, unsweetened almond milk, grated apple and raw apple juice topped with fresh fruit and toasted nuts
Smoothie Operator Bowl $7.00
Smoothie served in a bowl with delicious toppings
Bliss Balls $2.50 for 2
Paleo no faileo $7
Pete's recipe for chia and coconut custard (has FR egg) topped with berries and activated toasted nuts
HOURS
Monday to Sunday 7.30am-3pm
 Here until Sunday 22nd January 2017. Menu and hours subject to availability. 
Pod 2: Mao & Co
Inspired by the amazing night food markets around Asia, Mao & Co owners Drew and Tom are bringing delicious handmade dumplings and noodles to Wellington. Both experienced chefs, Drew and Tom share a love and passion for good quality, reasonably priced Asian-fusion cuisine.
Mao the Cat, their logo, is based on the Japanese Cat, "Maneki - Neko", a symbol of good luck and fortune.
Mao and Co's dumplings are made with the freshest seasonal produce. Their handmade pastry is coloured with 100% pure vegetable juice! Dumplings are served poached and without the oil (a healthier alternative to frying) and loaded with flavour.
POP-UP MENU
Handmade Dumplings  8  for $10  or  12  for  $14
Flavours:
Tofu, spinach & shiitake mushroom
Prawn, fish & water chestnut
Pork, chinese cabbage & fennel
Lamb, green leek & cumin
Beef, red onion & black pepper
Handmade Noodles
Tofu, asian veges & pickles  $8
Seafood, squid ink & chili  $12
Soy chicken, sesame & satay  $10
Beef, sichuan pepper & bok choy  $10
Mao's Hangry Combos
Noodle bowl & 4 dumplings  $14
Seafood noodle bowl & 4 dumplings  $16
Sweet
Lychee jelly, mint & strawberries  $4
Mango pudding, sago & coconut  $4
HOURS
Monday to Friday - 11.00am to 3.00pm
Saturday and Sunday - 10.00am - 4.00pm

Here until Sunday 22nd January 2017. Menu and hours subject to availability.