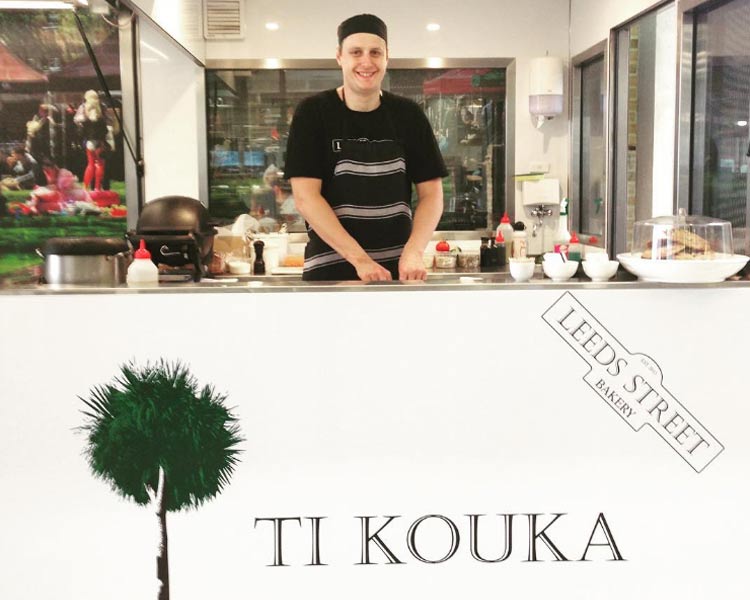 Joining the Chook Wagon and Miki Sushi, Pop-up Food Pods are the latest addition to our takeaway food offering! 
Located in the Piazza at Moore Wilson's College Street, Food Pods provide a chance for local artisans to 'pop-up' for a limited time and share their take on street food direct to the Wellington public. Here's what's on right now:
Pod 

1: Ti Kouka Cafe

In 2010, brothers Jesse Simpson and Shepherd Elliott decided to team up and open Ti Kouka. The perfect team, Jesse runs the front of house, curates the beverage list and serves up beautiful coffee while Shep, the talented head chef, brings a wealth of knowledge and experience to produce outstanding food.
Ti Kouka's philosophy is to use local, seasonal, sustainable, and organic produce whenever possible.
Leeds St Bakery began as a part of Ti Kouka Cafe. Ti Kouka was producing all of its baked goods in their modest sized kitchen but as the popularity of their baked goods, particularly the salted caramel cookies, grew they had to look for an alternative. Leeds St Bakery opened in 2013, serving a range of freshly baked goods from Wellington's tastiest laneway. The offsite bakery also meant Jesse and Shepherd were finally able to fulfill a dream of baking their own bread for their cafe.
POP-UP MENU
Fresh Seasonal salad of summer vegetables, puy lentils, grains, toasted seeds, almonds and lettuce $14. ADD hot smoked salmon $18
Home-cured bacon sandwich with iceburg, avocado mayonnaise, smoked tomato jam in a milk bun $12
Haloumi burger with beetroot relish, mushroom pate, organic lettuce, mayonnaise in a milk bun $14
Braised pork with apple and sage with stout mustard, dill pickles, iceburg, smoked mayonnaise in a milk bun $14
Leeds Street salted caramel cookies $5
Any item can be made gluten free and everything except the cookies can be dairy free too.
POP-UP HOURS
Monday to Sunday: 10.30am - 3.00pm
Here until Sunday 26th February 2017. Menu and hours subject to availability. 
Pod 2: Mao & Co
After chefing in glitzy restaurants across the globe for over 20 years, Aaron Stott returned home and is now the proud owner of Tinakori Bistro.
His partner in business and life, Katy Noyle, runs Tinakori Bistro's front of house with bubbly enthusiasm. Her eye for detail and love of people spill over to make this fine dining experience a fun and personal one.
While the Bistro menu has a strong French influence, Aaron and Katy will be sharing one of their other favourite cuisines from the Pod – flavour-packed Korean BBQ!
POP-UP MENU
Handmade Dumplings
8  for $10  or  12  for  $14
Flavours: Pork, chinese cabbage & fennel or Lamb, green leek & cumin
Handmade Noodles $10
Spicy tofu, bean sprouts and lotus root
Soy chicken, sesame and peanut satay
Beef, Sichuan pepper and bok choy
Mao's Hangry Combo $14
Noodle bowl topped with 4 mixed dumplings
Drinks/Sweet
Iced Jasmine Green Tea $4
Mango, coconut and sago pudding $4
POP-UP HOURS
Monday to Sunday 11.00am - 3.00pm
Here until Sunday 5th March 2017. Menu and hours subject to availability.