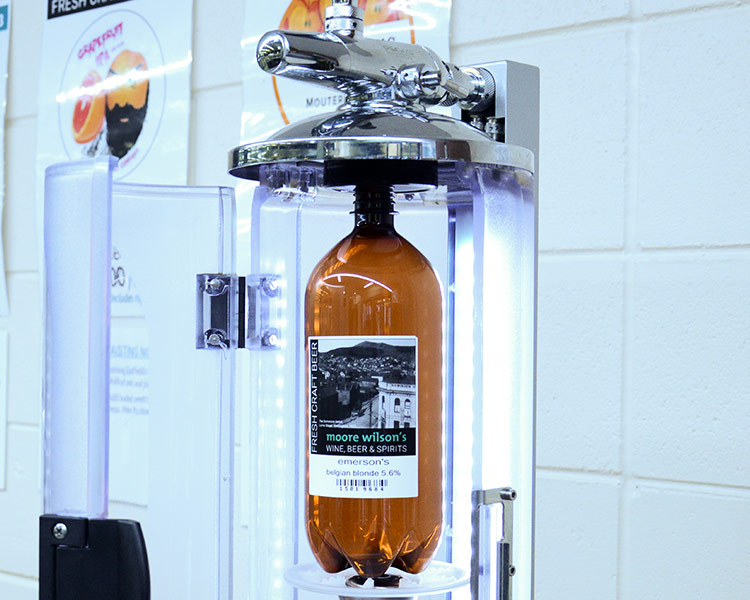 Fresh Craft Beer now pouring at Moore Wilson's Tory Street and Porirua Wine, Beer & Spirits Stores.
Currently on tap
Tory Street
Funk Estate It's a Doozy IPA
Epic Awakening Pils 
Double Vision Brewing Expatriate APA
Tuatara Price Albert Extra Special Bitter
Galbraith's Grafton Porter
Porirua
1. Te Aro Brewing Razzle Dazzle Pilsner
2. Double Vision Brewing Expat APA
3. Garage Project Fuzzbox
Selection changing regularly. Subject to availability.
Poured fresh from the PEGAS CrafTap system
Our Fresh Craft Beer filling system keeps your beer fresher for longer!
Developed especially for filling take-home bottles of craft beer, we chose the PEGAS CrafTap system because we want our customers to get the freshest beer possible! The PEGAS CrafTap uses the same operating principles found in large bottling factories around the world, counter pressure the bottle with CO2 before filling with beer. This results in less foam, less waste, and a better tasting, longer lasting rigger.
FAST FOAM FREE FILLING
Filling growlers the standard way always result in excessive foam, resulting in a longer wait for a messy rigger. The PEGAS CraftTap is a unique counter pressure system that fills growler quicker, foam free, for a better tasting rigger.
YOUR CHOICE OF KEG
All kegs are fed through one CrafTap, and each also has a CO2 dial to purge the beer line between pours, ensuring there is no beer mix.
LONGER LASTING
Standard filling equipment delivers a rigger of beer that loses its integrity from the moment its poured, resulting in a flat beer in 2-3 days. The PEGAS CraftTap retains the exact environment from the keg to the growler, therefore never
allowing beer to begin breakdown. The result is a rigger that lasts for weeks
versus days.
SUPERIOR TASTING
Yes, not only longer lasting, but also superior tasting. By pushing out the oxygen in the rigger by counter pressure filling with CO2, the beer is saturated with CO2 when the rigger is filled, so you get a fresher, better tasting rigger.