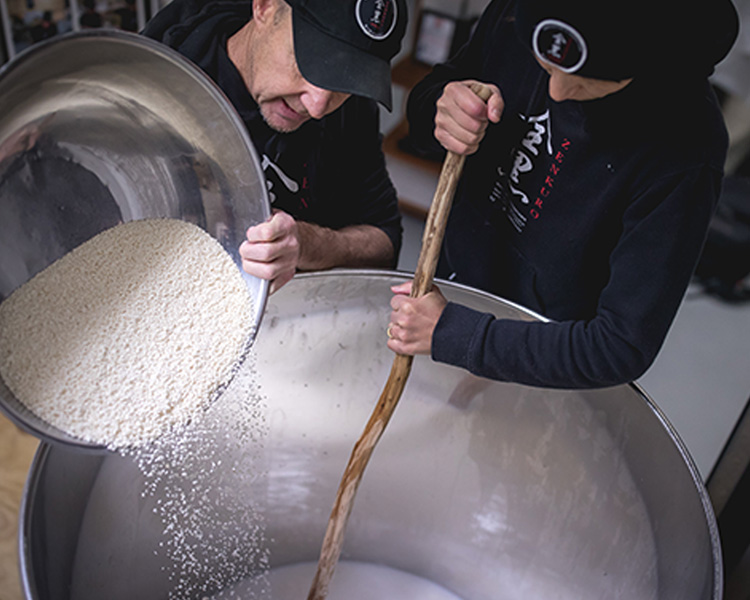 New Zealand's first and only sake brewery, Zenkuro Sake is based in Queenstown. They produce a ginjo and junmai style of sake using only the finest polished sake rice and water sourced from the Southern Alps. The purity of their ingredients creates a fine sake, best enjoyed chilled as an accompaniment to any meal. The Kiwi brand has gone global, you can now get your Zenkuro fix in New Zealand, London and Japan. The character 全 (zen) means 'entirely' or 'completely' and 黒 (kuro) means 'black' - or as we like to think of it ALL BLACK (the perfect reason to enjoy a glass of sake while watching the Japanese World Cup!)
David Joll, Zenkuro's head brewer and a certified 'Sake Professional', first travelled to Japan as a 17-year old exchange student, many moons ago. He later studied Japanese at Auckland University, Shizuoka University, and completed a post-graduate course in Japanese Studies at Hitotsubashi University. He is also a black belt in Judo. After years of research drinking sake, he is now a master of the brewing process. His wife, Yasuko, is from Fukuoka.
Zenkuro Original Junmai New Zealand Sake is available from Moore Wilson's Wine, Beer & Spirits and online. For those who have not drunk sake before, or those who have, but drank too much too quickly, we suggest you try this smooth, light, easy drinking style. Zenkuro Original is a great alternative to either white or red wine with your meal, it is a great match with a wide range of Japanese, European or Kiwi dishes.