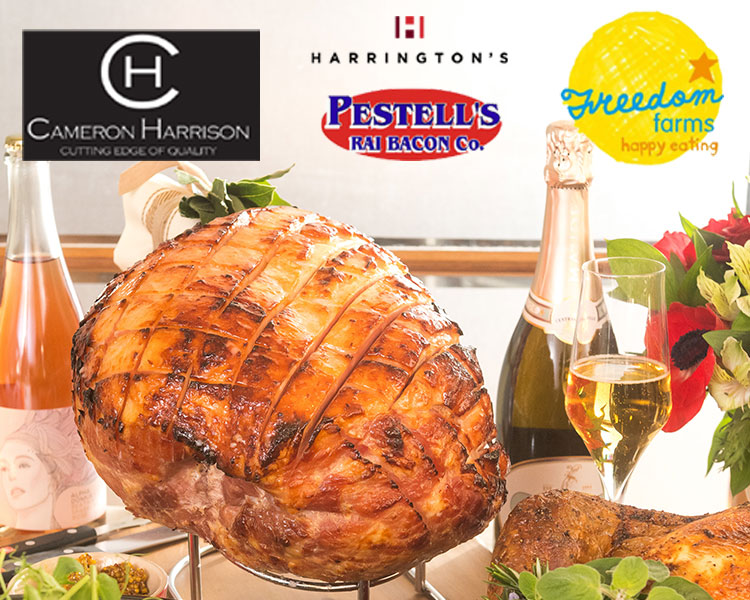 At Moore Wilson's Fresh we stock only quality hams made from 100% New Zealand pork.  At Christmas time you'll find an even greater range of brands and sizes available from quarter hams to whole legs.
Our Christmas hams come from local companies we know and trust. When you buy a ham from Moore Wilson's Fresh you know you are getting the best quality available. You also know you're paying for the weight of the pork and not excessive amount of brine.
The two main types of Christmas Ham are:
HAM ON THE BONE: Classic Christmas ham, smoked and cooked with the bone left in the body of the ham.
CHAMPAGNE HAM: Champagne hams have the bone (except the hock) removed and the meat is then reshaped to get it back looking like a leg again. Some people say this means it has a slightly softer moister texture than traditional ham on the bone.
This year our Christmas hams come from four NZ producers:
Freedom Farms make hams from SPCA certified pork, free-farmed here in NZ without crates, cages, pens or growth hormones. Freedom Farms hams are pre-cooked and naturally wood smoked, so all you need to do is remove the wrapper and get to serving. But if you can, glaze it at home - it is so worth it!  Don't forget to save the hock bone, stick it in the freezer and think pea and ham soup for winter.
Harrington's carefully craft their hams using their own Special Cure to bring out that rich ham flavour. Smoking and cooking their gluten-free hams is a slow, painstaking process for owner Angus Black and his team, ensuring the taste and texture are the best possible quality for you to enjoy. Free-range, single-source, 100% New Zealand-raised, you'll taste the difference. Harrington's Half Ham on the Bone is available from Moore Wilson's Fresh.  A fuller-flavoured ham, slice after slice you'll enjoy the pure pleasure of a traditionally-crafted ham that's made for sharing.
Harmony go to extraordinary lengths to ensure that their meats go from pasture to plate with absolute care at every stage.  They believe that how an animal lives, adds more quality and flavour to the meat than any other aspect of the process. They our meat from a select group of farms which are chosen because they meet every criterion of sustainable farming and recognised animal welfare. Harmony animals are grass fed. No cages, no pens, only open pasture.
Cameron Harrison Butchery and Delicatessen was established by Rob Cameron and Simon Harrison in 2009. They have shops in Ngaio and Kelburn Village, and a factory in Tawa. Cameron Harrison took out the title of Ham of the Year in the 2014 NZ Ham & Bacon Competition and in 2015 won a gold medal for their Manuka smoked boneless ham.
Pestell's Rai Bacon Company is a family owned, Nelson business run by third generation butchers, Christopher and Stephen Pestell. Pestell's hams are sugar cured and manuka smoked, using our own special curing recipe. They are then cold smoked, before being cooked in purpose built cookers to optimise the moist, succulent texture that Pestell's hams are renowned for. After being cooled and chilled overnight the hams are ready for packing the next day.
In case you're tempted to pick up a 'cheap' Christmas ham from elsewhere, here are some reasons not to:
Over 40% of the pork sold in New Zealand imported from overseas. We don't sell hams made from imported frozen pork because we can't be sure of the conditions these pigs are farmed in and also what has gone into the finished product.
Increasing the weight of hams with brine injections enables the price per kilo to be noticeably reduced. Some legs of pork have been known to have their weight increased by up to 40% with brine injections. If you're buying a cheap ham there's a good chance you're really buying some expensive salt and water! We only sell hams we know have been produced with minimum brine injection.
It impacts the livelihoods of local farmers when people purchase cheap imported meats.
Quality NZ ham simply tastes better!
Please feel free to ask our knowledgeable Meat Department staff if you require assistance picking the perfect ham for your festive celebrations.