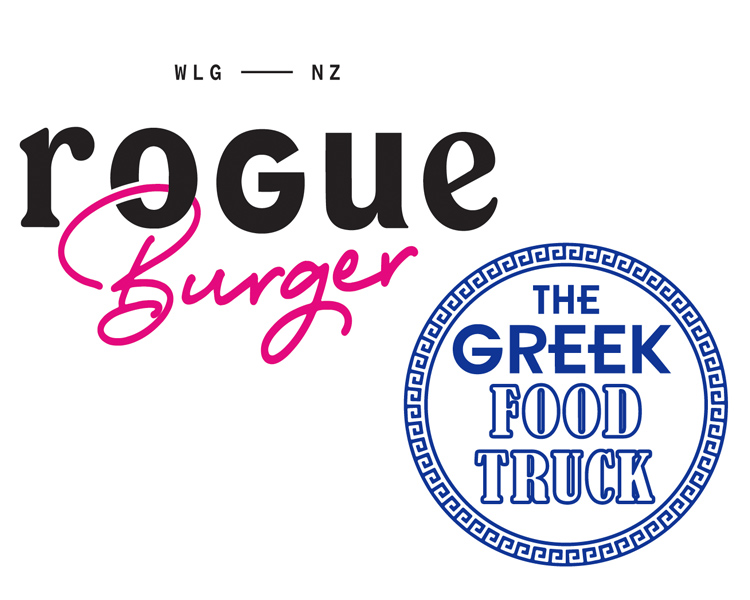 Located in the Piazza at Moore Wilson's College Street, Food Pods provide a chance for local artisans to 'pop-up' for a limited time and share their take on street food direct to the Wellington public. Here's what's on right now:
Rogue Burger
Rogue Burger is Wellington's cheekiest little burger bar. We believe in the basics - the meat, the cheese, the sauce, the bun. Bloody good food, fresh as, from the best suppliers. We're about the lip-smacking, mouth-watering, thick and juicy eats.  We love to play with our food and encourage you to do the same. We're a little messy, a little fun, and an all round good time. Keen to have a taste? Go Rogue.
POP-UP MENU
Cheeseburger  $14 - Grass-fed beef patty, American style cheese, lettuce, pickles, onion, tomato, burger sauce
gf on request - add $2
Vege Burger $16 – Crumbed mushroom, grated halloumi, herb salsa, pickled onion, rocket, tzatziki, sriracha
gf /vegan on request - add $2
Rogue Burger $17 – Grass-fed beef patty, Old Bay crispy onions, bacon, American Cheddar, grilled onions, aioli, BBQ sauce
gf on request - add $2
Fries & Sauce $4 - Shoestring fries, aioli
vegan on request
Kitchen Sink Cookie $5
OPENING HOURS
11.00am-2pm Monday to Sunday
Here until Sunday 9th August
The Greek Food Truck
The Greek Food Truck is here to stay and serving their popular souvlaki, Greek salads, spanikopita and baklava Monday to Sunday.
MENU
Pita Souvlaki
Warm Pita Bread served with tzatziki, red onions, tomatoes, fries and your choice of grilled meats/ grilled cheese
- Chicken $12
- Lamb $14
- Mixed  $14
- Mititie $14
- Halloumi $14
- Bacon/Halloumi $14
- Feta $14
Greek Salads
Traditional Greek Salad served with your choice of grilled meats/grilled cheese
- Chicken $12
- Lamb $14
- Mixed $14
- Mititie $14
- Halloumi $14
- Feta $14
Spinach Pie $7
Baklava $4
OPENING HOURS
11am-3pm Monday to Sunday