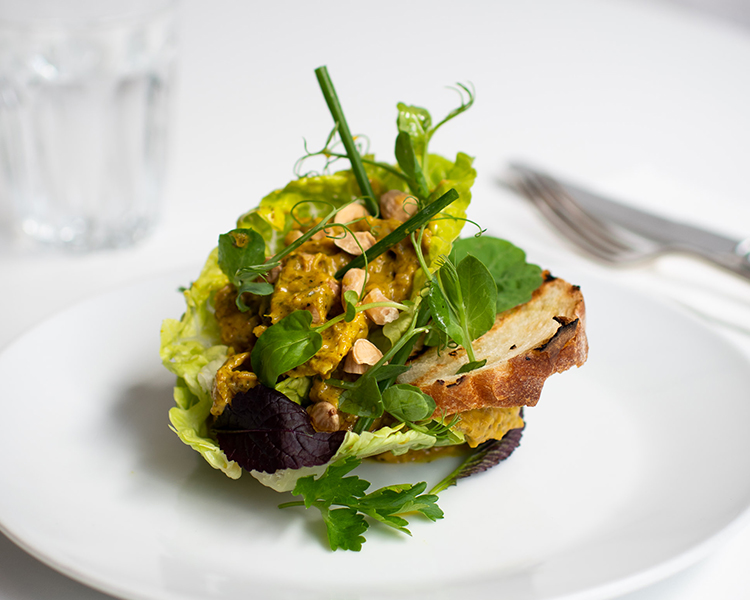 Field & Green's Coronation Chicken with Baby Cos Lettuce and Roasted Almonds

Create this British dish from Laura Greenfield at Field & Green.
INGREDIENTS
12 boneless and skinless chicken thighs
2 white onions, finely sliced
50g fresh ginger, grated
3 cloves garlic, sliced
1 bunch coriander, roughly chopped
1 dessert spoon mild curry powder
1 dessert spoon ground turmeric
5 Tbsp mango chutney
2 tsp salt
2 tsp ground white pepper
¼ tsp cayenne pepper (optional)
200ml natural yoghurt
200ml mayonnaise
2 tsp lemon juice
1 baby cos lettuce, leaves separated
50g roasted chopped almonds
INSTRUCTIONS
Put chicken in a large mixing bowl and add all the ingredients down to and including cayenne pepper. Mix well and place in an oven-proof dish. Cover with foil and cook for 45 minutes at 180°C.
Take out and allow to cool completely.
Lift the chicken out of the dish and break into small pieces. Put the other cooked ingredients in a high sided bowl and, with a hand blender, blend until smooth. Add the yoghurt, mayonnaise, and lemon juice. Combine and season to taste.
Mix the chicken into the sauce.
To serve, place the cos lettuce on a large platter, spoon the chicken over it and scatter with almonds.
Serve with toast or crackers.

Serves 6.