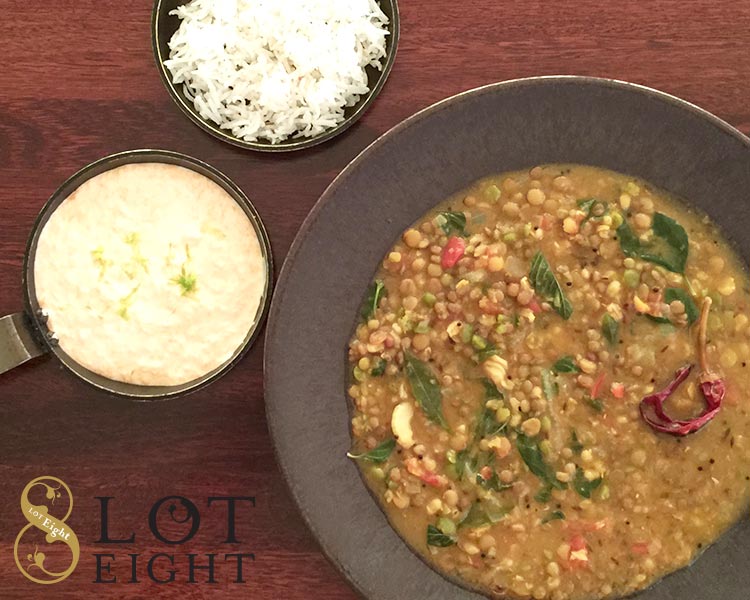 Lot Eight Hearty Dhal Soup

A comforting winter dish from owner of Lot Eight Olive Oil, Nalini Baruch. Serve as a vegetable soup or with steamed rice, plain yogurt and your other favourite accompaniments.
Recipe featured in Series 1 of the Moore Wilson's Recipe Collection. Serves 4.
INGREDIENTS
50g each of yellow split peas, green split peas and brown lentils
30g puy lentils
20g pearl barley
3L water
5 Tbsp. Lot Eight 'Oil Makers Blend' Extra Virgin Olive Oil
¼ tsp asafoetida
1 tsp turmeric powder
1 ½ tsp salt
2 large cloves of garlic, peeled and finely sliced
1½ tsp cumin seeds
½ tsp black mustard seeds
1 medium onion, peeled and finely diced
One red chili, finely sliced
10-12 small curry leaves
2 large or 3 medium ripe tomatoes, finely diced
1 tsp finely grated fresh ginger
1 cup of baby spinach
Juice of one large lemon
¼ cup fresh coriander leaves, torn
INSTRUCTIONS
Mix all the lentils and the pearl barley in a sieve. Wash until water runs clear. Soak this 'dhal' mix in 1.5L of cold water for 20 minutes.
Drain and place in a heavy pan with 1.5L of water, 1 Tbsp of extra virgin olive oil, asafoetida and turmeric. Stir well and bring to the boil. Skim off any scum that rises to the top. Reduce the heat to a gentle boil and cook uncovered for 15 minutes. Continue to skim any scum that rises to the top.
Stir in 1 tsp of salt and continue to cook for a further 20 minutes. By now the water should be reduced to half.
If required, add enough hot water to bring the level back to half. Turn off the heat, cover and set aside.
Heat 3 Tbsp of extra virgin olive oil in a deep non-stick pan big enough to hold the cooked lentils. Once hot, add the garlic slices. Let it brown slightly. Follow with 1 tsp cumin seeds, mustard seeds, onions, chili and curry leaves. Cook until the onions brown. Stir frequently to avoid the mix catching.
Add tomatoes and ginger, mix and cook for a further 4-5 minutes. Stir frequently. Now introduce the cooked lentils to the tomato mixture and stir well. Taste for seasoning and cook for a further 3-4 minutes. This allows the flavours to combine.
Stir in the spinach and lemon juice. Taste for seasoning and adjust as required (once lemon juice is added to dhal, salt levels can diminish noticeably). More chili can be added at this stage for extra heat.
Remove from heat and stir in 1 Tbsp of extra virgin olive oil. Cover and set aside.
In a small frying pan, dry roast ½ tsp of cumin seeds over low to medium heat until fragrant. While hot, transfer to a wooden board and lightly crush with a rolling pin. Add to the dhal together with the coriander leaves.
Serve with an aromatic wine like Viognier or Gewurztaminer.