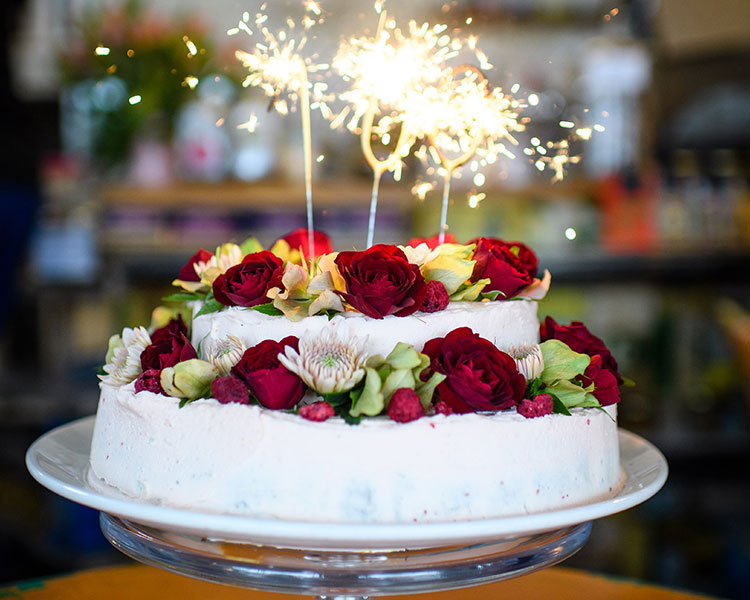 Queen Sally's Cacao & Berry Celebration Cake

Recipe from the 2018 Moore Wilson's Calendar. Thank you to Queen Sally's Diamond Deli for creating this beautiful celebration cake for our Centenary month!
INGREDIENTS
Dry Ingredients
3 cups unbleached white flour
2 cups raw sugar
1 cup cacao powder
2 tsp baking powder
2 tsp baking soda
1½ cups mixed blackberries and raspberries
Wet Ingredients
2 cups plant based milk
1 cup boiling water
1 cup oil
1 tsp vanilla essence
Icing
⅓ cup Olivio spread
3 cups icing sugar
1 heaped tsp freeze dried strawberry powder
1 tsp vanilla essence
1 Tbsp boiling water
INSTRUCTIONS
Preheat oven to 170°C. Line a 28cm round cake tin with baking paper.
Stir dry ingredients together. Whisk wet ingredients together until incorporated. Fold wet ingredients into dry and pour into lined cake tin.
Bake for 50 minutes or until an inserted skewer comes out clean.
Remove from oven and allow to cool slightly before removing from tin and placing on a cooling rack.
For the icing, place ingredients into electric beater and whip until fluffy. Add more boiling water if icing is too thick.
Once cake is completely cool, spread icing evenly over the cake. Decorate with flowers and freeze dried raspberries if desired.
TIPS
Note: for the pictured celebration cake, Katie from Queen Sally's has made 1½ times this recipe and used a 20cm cake tin for the top layer.