The Catering Studio's Yuzu Curd Tart with Vanilla Meringue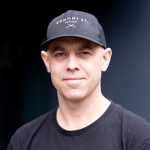 Recipe shared by Simon Pepping for Moore Wilson's 2020 Calendar.
The Catering Studio
thecateringstudio.co.nz
Egmont Street Eatery
11 Egmont Street
www.egmontstreet.co.nz
INGREDIENTS
Tart Cases
200g gluten-free flour
80g unsalted butter, diced
80g icing sugar
Pinch of salt
1 egg
Yuzu Curd
1 whole egg
5 egg yolks
60g Yuzu juice
20g orange juice
10g lemon juice
100g sugar
100g unsalted butter, diced
Vanilla Meringue 
125g caster sugar
40g water
50g egg whites
10g vanilla bean paste
INSTRUCTIONS
To make the tart cases, place flour, icing sugar, salt and butter in the bowl of a stand mixer with the paddle on, mix on slow speed until crumbs form, add eggs and mix until combined (don't over mix the dough). Place the dough in the fridge for at least 2 hours.
For the yuzu curd, mix all the items except the butter in a metal bowl with a hand whisk. Place the bowl over a pot of boiling water, ensuring the water does not tough the bottom of the bowl. Keep stirring until very thick. Add in the butter and stir until combined. Place the yuzu curd in the fridge for at least 2 hours.
For the meringue, place egg whites in a dry clean mixing bowl, and whisk on slow speed. Place sugar and water in a pot on the stove, stir well and leave to boil. Bring to 117°C. Turn your mixing bowl up to second speed and steadily pour hot sugar syrup in. Now turn to third speed and whip until thick. Add in the vanilla bean paste at the end of the mixing.
Before baking the tart cases, preheat oven to 170°C and take out the dough from the fridge and allow to rest for 10-15 minutes. Roll the dough on a flat surface with a bit of rice flour to ensure dough doesn't stick. Roll to 2mm thickness, cut out circle shapes and put back in the fridge for 5 minutes. Then mould the dough into a non-stick tart tray. Bake for 20-25 minutes until golden brown. Allow to cool.
Fill the tart cases three-quarters full with the yuzu curd before piping over the lukewarm vanilla meringue.
Finally blow torch slightly the vanilla meringue to get light brown colour.