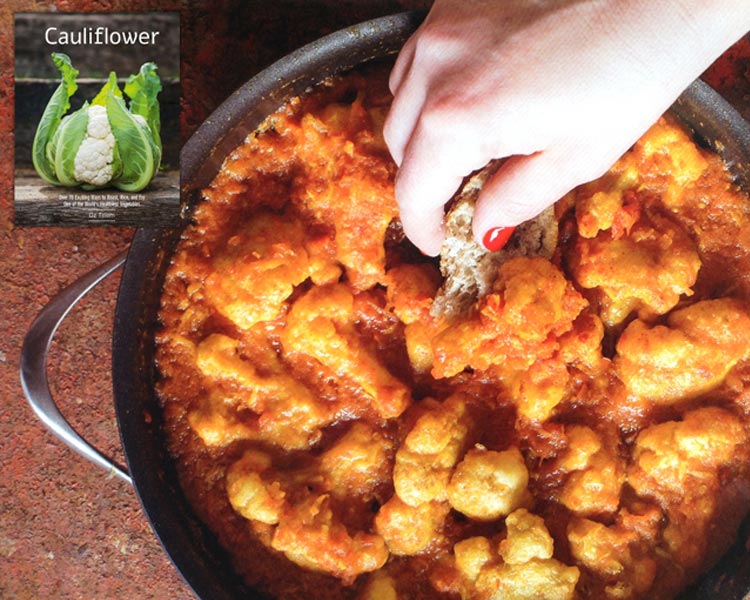 Shoflor: Moroccan-Style Cauliflower

Recipe by Yonit Tzukerman from the book 'Cauliflower' by Oz Telem.
The fresh tomatoes and spice in the sauce mingles with the triple-cooked cauliflower florets to create a satisfying meaty sensation without any meat!
INGREDIENTS
For the cauliflower
1 medium-size cauliflower
oil, for deep-frying
2-3 medium eggs, preferably free-range
125 g plain (all-purpose) or wholewheat flour
1/2 tsp sea salt
crusty bread, to serve
For the sauce
4- 5 ripe tomatoes
2-3 Tbsp olive oil
5- 6 garlic cloves, peeled, or more, thinly sliced
1/2 tsp ground turmeric
1 tsp hot or sweet paprika
500-750ml water
about 1 Tbsp demerara, muscovado or other brown sugar (to taste)
fine sea salt and freshly ground black pepper
INSTRUCTIONS
1. To cook the cauliflower: Steam the cauliflower whole for 7-9 minutes, or until just tender. Transfer to a large bowl and leave to cool slightly, then cut into medium-size florets.
2. Heat the oil for deep-frying in a small saucepan. Beat the eggs in a bowl. In another bowl, mix the flour and salt.
3. Coat the steamed florets with flour, then dip in the eggs until evenly coated.
4. Fry in 2-5 batches for 5-4 minutes or until nicely golden. Lift out with a slotted spoon and drain on kitchen paper.
5. To make the sauce: Grate the tomatoes and place in a bowl.
6. Heat the oil in a medium-size saucepan, add the garlic and cook, stirring frequently, over a medium heat until the garlic is fragrant but not brown.
7. Add the grated tomatoes, turmeric and paprika, and season with salt and pepper and stir well. Add the fried florets and enough water to just cover.
8. Bring to the boil, then simmer, uncovered, over a medium-low heat for 25 minutes, or until the florets are completely tender and the braising liquid has been reduced by half.
9. Taste the sauce and adjust the seasoning if required with salt, black pepper, and sugar. Serve warm or at room temperature - alongside some bread to mop up all the flavours.
TIPS
Adjust the recipe to suit your dietary requirements:
Vegan - coat the cauli in beer batter instead of the flour and egg coating.
Gluten-free -  use cornflour or other gluten-free flours instead of wheat flour.
Paleo - omit the sugar and flour. Coat cauli in superfine almond meal or only with egg.