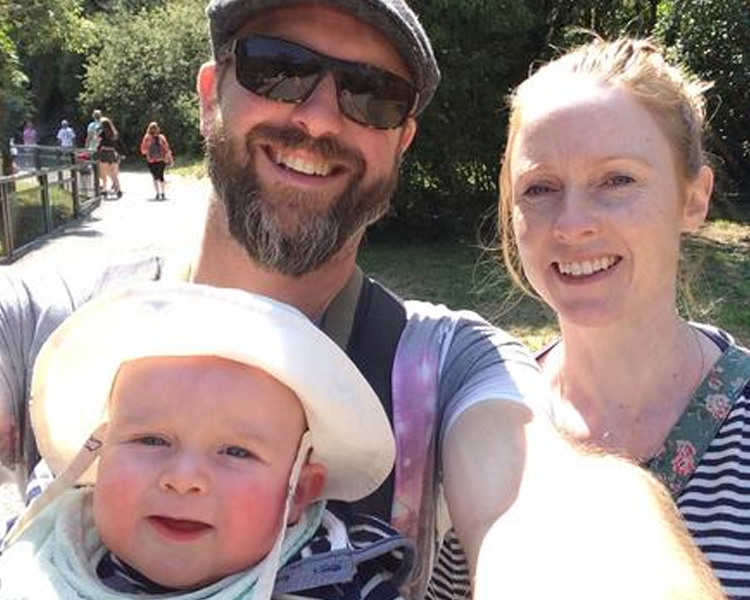 Woody's Free Range Farm

From Cambridgeshire, to Australia to Horowhenua, Daniel Todd's journey to becoming a free-range pig farmer has been far from traditional. Seventeen years at an electronics firm saw him develop a curiosity for pig farming – in particular, the ethical farming of rare pig breeds.
Born in Peterborough in the UK, in 1974, Todd moved to Australia in 2015 where he met his partner Claire, who originally hailed from Palmerston North. The stars aligned – Claire wanted to move back to New Zealand to be closer to her family, and Daniel had become bored with his job. "It was no longer challenging or rewarding." he said. "I thought a change would be good." It was no small change. Daniel started his professional life with a degree in history and working for a consumer electronics company, managing the buying and business strategy, while Claire completed a law degree and worked for the likes of Yahoo and ABC.
Neither of them had any experience in pig farming, but that wasn't about to put Daniel off. He attended a short course on pig farming in Australia but is primarily self-taught, relying on books, podcasts and YouTube. "Pig farming was something that I had become interested in when I realised how horrific the pig farming industry had become," he said. "Not only did free range pig farming give me the chance to make a difference in a world that seemed to care less and less about animal husbandry but also it met with my business acumen requirements industry with greater demand than supply."
Woody's Farm (named after the family dog) is located at the base of the Tararua Range in Horowhenua – an hour from Wellington and 45 minutes from Palmerston North. In 2017 Woody's Farm opened its own butchery and factory in Levin, just a ten-minute drive from the farm. Part of the appeal of Woody's is the story behind the product, which is becoming increasingly important as consumers become more aware of what they're eating. "It's important for the consumer to be interested in our philosophy," Todd explained. "We want consumers to really understand what free range is and not just accept it when they are told meat is free range. In New Zealand only one percent of pig farming is free range so if the supplier can't tell you the name of the farm, then without a doubt it is not free range."
Additionally, 'free range products from outside New Zealand (particularly imported from Denmark) is actually 'free farmed', which can be misleading for consumers. "All we ask is that retailers only promote the truth," he said. "It's not acceptable to have a big sign saying 'Free Range' when half the products are free farmed or intensive. We understand that
free-range farms in New Zealand can't supply the full demand for the product and consumers can't always afford the price of free-range, but the choices should be clear."
The breed of pig is essential in maintaining free range. Pigs that are going to be outside all year round need to be capable of dealing with the weather. "Heritage breed pigs are closer in genetics to the original breeds of pigs and as such have traits more suitable for
free-ranging." explained Todd. "In particular our breeds, Large Black and Berkshire, are black and as such are less susceptible to sunburn and any related diseases." However, these breeds are much slower to grow, and fat and muscle levels can be hard to maintain.
A crucial part of the Woody's story is provenance, one which appeals to consumers countrywide. "We are all about transparency and provenance of the meat we produce and sell. We believe that you should know the farm from which your meat comes if you really care about what you are eating. Animals need to live a pleasant, healthy life in order for the product to be healthy." Woody's products are currently stocked in Moore Wilson's and Farro Fresh, with more to follow soon. Woody's products are also found in restaurants all over the country such as Orphans Kitchen and Noble Rot Wine Bar.
Todd is always looking at expansion - the recently opened butchery and factory is a testament to that. The increased capability which comes with the factory means that Woody's now offers a full range of charcuterie and salami. "We are also working on various new sausage flavors, some of which are being made exclusively for various customers," he said. "Later this year we will start to bring in other meats from our farm and sister farms such as goat and beef. We're all about experimenting and love to try new things."
You can find a wide range of Woody's Free Range Farm's products at Moore Wilson's. Find a variety of natural and flavoured mince, sausages and bacons in our chillers.