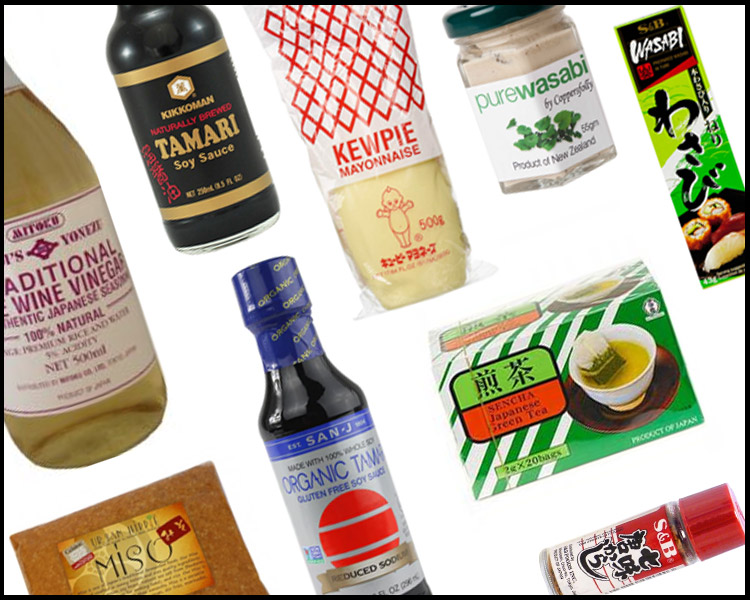 A Taste of Japan

While sushi may be what initially comes to mind, there is a lot more to Japanese cuisine than this popular dish. Did you know, as of 2019 Tokyo is the  city with the most Michelin star restaurants, with a total of 230 restaurants!
Traditional Japanese cooking, or washoku, is based on "rules of five," which emphasizes variety and balance. This is achieved through the use of five colours (black, white, red, yellow, and green), five cooking techniques (raw food, grilling, steaming, boiling, and frying), and five flavours (sweet, spicy, salty, sour, and bitter).
Along with all your sushi-making essentials, Moore Wilson's Fresh is home to a great range of Japanese pantry basics so you can bring the wonderful flavours of Japan to life in your own home.
Kewpie Mayonnnaise: Regarded as the best mayonnaise in the world. Made from egg yolks only rather the whole eggs plus rice vinegar, soy based vegetable oil and a touch of the flavour enhancer MSG.
Bonito Fish Flakes: Bonito flakes, also known as katsuobushi, are little wisps of dried, fermented bonito, used in Japanese cooking to for their smoky, intensely savoury, slightly fishy flavour. The flavour is somewhere in between anchovies and bacon, but much more delicate than either one.  Bonito flakes, along with kombu, are one of the primary ingredients in dashi - a savoury stock that is
ubiquitous in Japanese cooking - but they can be thrown in or on any dish that needs a boost in the savoury department.
Nori Sea Salt: Made by Wellington's Asian Food Republic, this seasoning can be sprinkled over cooked chicken, pork or seafood as a vibrant garnish and extra flavour. Also great on cooked rice and Asian soups.
Soba, Ramen and Udon: Although not made in Japan, our range of Japaenese noodles are an essential base for many dishes including soups, salads, stir-fries and ramen broths.
Yuzu Extract: Yuzu is a sour Japanese citrus fruit, used both for its juice and its aromatic rind. The yuzu has an aroma and flavour that is distinct from any other citrus fruit, somewhat akin to a cross between grapefruit and lime.  This rare fruit is used in authentic Japanese cooking, common in seasoning meat, seafood dishes, sweets and beverages.
Tamari Soy Sauce: A thicker, less salty, fermented soy sauce that contains less wheat than regular soy sauce (or look out for San-J Organic Tamari for a completely gluten-free option). Tamari adds a full, savoury, umami flavour to your dishes. 
Miso: A traditional Japanese paste made from fermented soy beans. These are numerous types and textures available. Provides an intense almost meaty savoury flavour. As a general rule, the lighter the Miso colour the more mild the flavour. You'll find a great range of imported miso as well as a New Zealand-made Miso from Nelson's Urban Hippie. Urban Hippie have also produced a Misomite which can be enjoyed on toast or as part of a dip, dressing, or marinade.
Nanami Togarashi: Nanami literally means seven flavours' in Japanese. This tasty spice blend is made up of chilli pepper, orange peel, black and white sesame seeds, Japanese Pepper, Ginger and Seaweed. A NZ Togarashi is also available from Kaituna Farms which includes NZ horopito and kawakawa. Sprinkle or rub on meat, fish and vegetables or add to pasta and rice dishes.
Rice Wine Vinegar: Made by fermenting the sugars in rice first into alcohol, and then into acid. Compared to white distilled vinegar, rice vinegar is less acidic with a delicate, mild, and somewhat sweet flavour. A pale yellow colour it is used as sushi vinegar and in making pickles.
Wasabi: This Japanese horseradish tastes very peppery and pungent. Moore Wilson's stocks fresh wasabi, along with the more common paste and powdered form.
Sencha Japanese Green Tea: The most popular green tea in Japan, favoured for it's smooth taste and refreshing finish. Available in a convenient box of teabags.
Matcha: T Leaf T's Matcha is produced by grinding tea leaves into powder. Produced in Uji-shi Kyoto prefecture Japan, this matcha not only tastes delicious it is said to be high in antioxidants and vitamins.