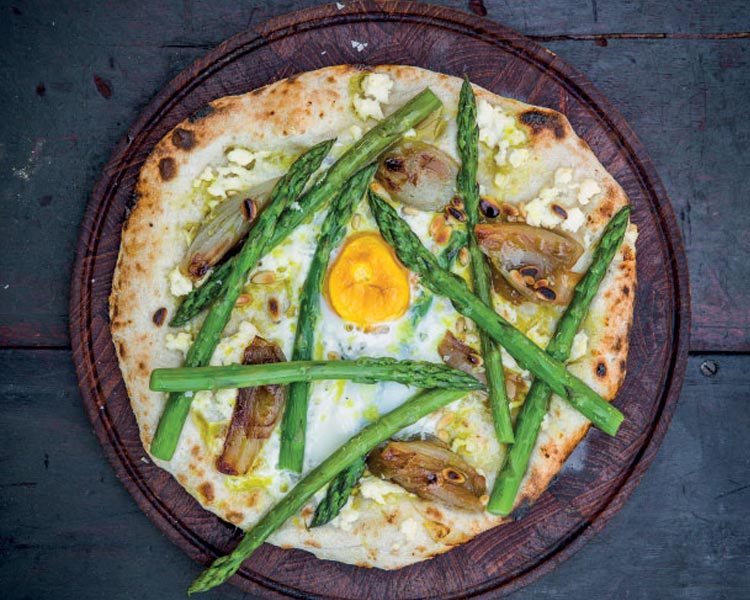 Alan Brown's Asparagus, Shallot, Feta and Egg Pizza

To celebrate the launch of Alan Brown's new Recipes from the Kiwi Pizza Oven, we have a very simple recipe from its pages – and it coincides nicely with asparagus season!
Not everyone has the space for a wood-fired pizza oven, and Alan's recipes reflect that – but we have something exciting to show off too. Check out the new Firebox BBQ Pizza Oven, the ultimate gift for pizza lovers and a great excuse to bring out the barbecue.
As with most pizza recipes, you'll need to get any oven as hot as you can – 350+ degrees C in a wood oven, or 250+ degrees C in a conventional one. The recipe below is for one 10" pizza.
INGREDIENTS
Pizza dough*
Feta cheese
Caramelised shallots
Fresh asparagus, lightly roasted or blanched
1 egg
Sea salt
Pinenuts
Avocado oil
INSTRUCTIONS
Shape the pizza, and crumble on a thin layer of feta.
Add a few shallots, then the asparagus.
Carefully crack an egg in the centre of the pizza
Lightly season with salt, and sprinkle with pinenuts
Cook in the hot oven for 2-3 minutes
Finish with avocado oil and sa
TIPS
* you'll find Alan's favourite pizza dough recipe in Recipes from the Kiwi Pizza Oven. If you're short on time a store-bought base will do the job!
When making your own pizza dough (or any bread), it is vital to weigh the ingredients - flour is much lighter than water, and using cup measures can make your dough misbehave! The Salter Glass Scale is an affordable and reliable kitchen scale we recommend for all home kitchens.