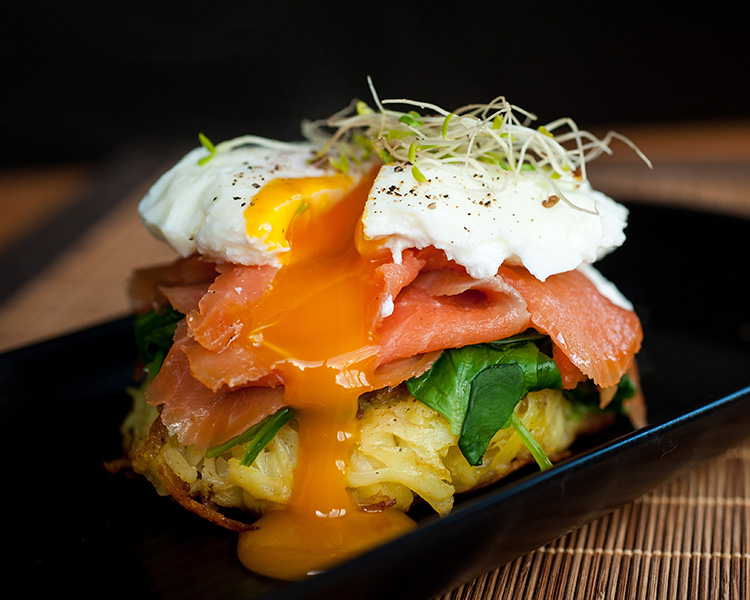 Aoraki Smokehouse Breakfast Stack

A delicious weekend brunch! Serves 2.
INGREDIENTS
350g potatoes
1 Tbsp butter
1 Tbsp oil
Salt and pepper
Serve with:
100g Aoraki Cold Smoked Salmon Slices
Poached egg
Blanched spinach
Micro greens
INSTRUCTIONS
Place whole potatoes in their skins in a saucepan. Cover with water and bring to the boil for 5 minutes only. Tip off the boiling water and plunge into cold water. Refresh the water a couple of times. The potatoes need to stop cooking at this stage.
When potatoes are cold, remove the skins, either scrape with a knife or rub off. Grate potatoes and season with salt and pepper. Shape potato rosti into 4cm patties or pack into a 4cm metal ring and lightly pack down.
Heat butter and oil in frypan. When sizzling add rosti and cook on medium until crisp on each side. This will take around 5 minutes each side.
Serve with blanched spinach, Aoraki Cold Smoked Salmon, poached egg and microgreens stacked on top of each other.
Recipe featured in the Moore Wilson's Recipe Collection Series 2.