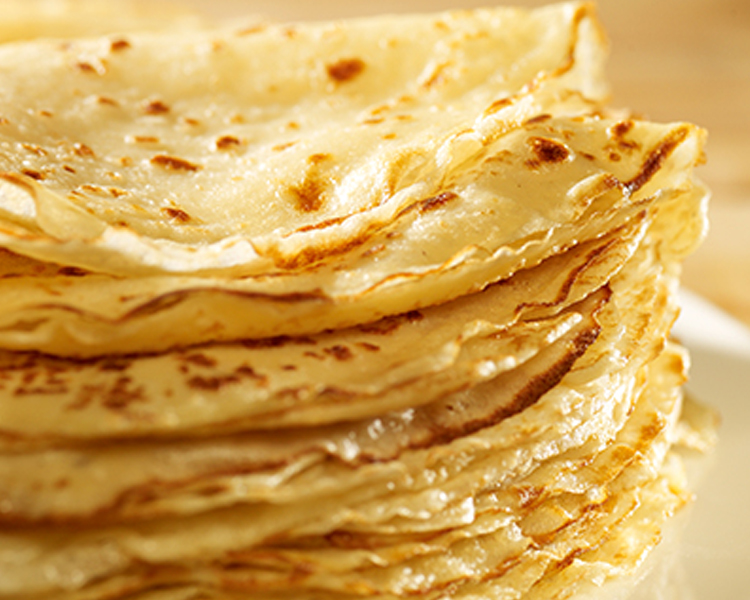 Basic Crêpe Recipe

Makes approximately 10-12 (x 20-22cm diameter) crêpes.
For best results, use our top-selling crêpe-maker, Breville BCP200 Crepe Creations ($49.95 each) to make this recipe.
INGREDIENTS
1½ cups (225g) plain flour
¼ teaspoon salt
1 ¼ cups (320ml) milk
3 eggs, lightly beaten
1½ tablespoons (30g) butter, melted
1 teaspoon vanilla essence
INSTRUCTIONS
Sift flour and salt into a mixing bowl.
Combine milk, eggs, butter and essence.
Gradually mix the combined ingredients into the sifted ingredients until the batter is smooth.
Preheat the cooking plate of your Breville Crêpe Creations on temperature setting 2 then pour approximately ¼ cup of batter onto the centre of the cooking plate. Quickly spread the batter in circular movements using the batter spreader until desired diameter of the crêpe is achieved.
Allow the crêpe to cook until the top surface is no longer runny, about 45-60 seconds, and the crêpe can be moved slightly on the cooking plate.
Insert a large plastic food slide under the crêpe and turn the crêpe over to cook the other side. Cook until just golden. Do not overcook.
Remove crêpe from cooking plate using a large heatproof plastic food slide and place onto a storage plate. Repeat with remaining batter, stacking crêpes onto storage plate with pieces of grease-proof paper in between each crêpe to prevent sticking.
TIPS
Quick serving ideas:
• Spread crêpes thickly with lemon butter, roll up and serve with cream or icecream.
• Spread crêpes with pre-purchased hazelnut spread and roll up for a delicious snack.
• Combine chopped marshmallow, shredded coconut, chopped banana and a little sour cream, spoon across centre of crêpe, roll up and warm in oven.