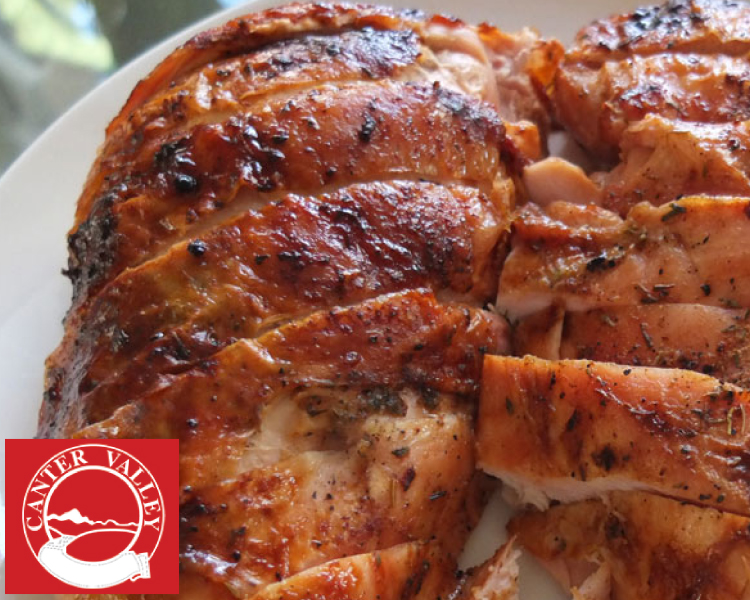 Canter Valley Herb Roasted Turkey Breast

Turkey breasts are ideal for slow roasting when you are entertaining and want to impress.
Brining the breast adds flavour from the fresh herbs and ensures delicious, moist meat when its sliced and served.
Allow 200g of meat per person. This recipe will serve 7.
INGREDIENTS
For the brine:
5-6L water salted with ¼ cup of sea salt (stir to dissolve all the salt)
6 whole pepper corns
1 sprig fresh rosemary
Handful fresh thyme sprigs
4 cloves garlic, peeled and smashed with the flat side of a knife
2 bay leaves
1 lemon, sliced
1 onion, quartered
1 cup fresh orange juice
For the roast:
1.4 kg whole Canter Valley Turkey Breast, skin on
2 carrots
2 stalks celery
1 small onion
2 Tbsp oil
2 cloves of garlic, chopped
2 tsp fresh sage, chopped
2 tsp fresh rosemary
2 tsp fresh thyme
salt and pepper to season
INSTRUCTIONS
In a large pot add salt to the water, stir to dissolve and then add the rest of the brine ingredients. Add the turkey breast and rest it in the brine for 2½ hours.
After this time, remove the breast from the brine, rinse under running cold water and pat dry.
Preheat oven to 160°C. Spray or wipe the bottom of a roasting pan with some oil. Slice or chop the carrots, celery and onion into large pieces and put them in the bottom of the pan. Mix together the oil, garlic, herbs and seasonings and rub the mixture over all of the surface of the turkey breast, inside and out. Fold the breast together.
Place the turkey breast on top of the veggies in the pan and roast in the oven for 1 to 1½ hours or until the juices run clear.
Remove the turkey from the pan and place it on a cutting board. Cover (tent) loosely with foil.
Let the turkey rest at least 10 minutes, then slice and serve with roasted seasonal vegetables, fresh greens, and a rich, aromatic Viognier.