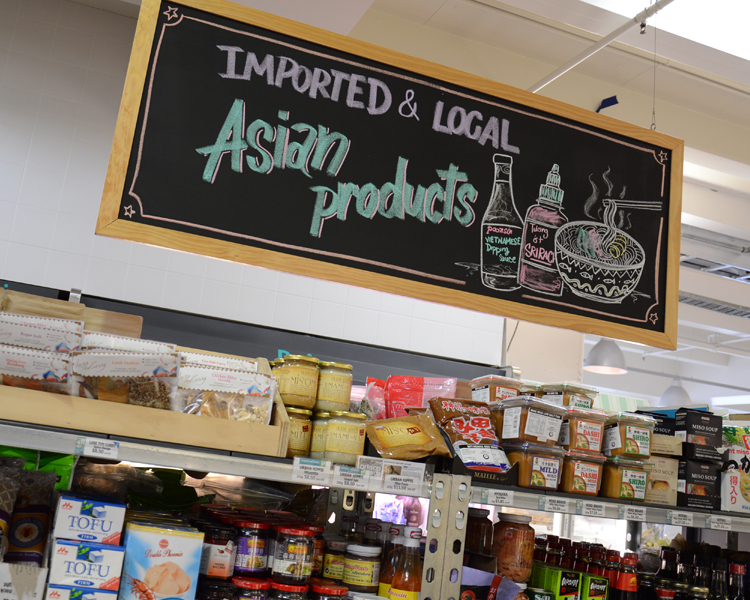 World Pantry

Don't know your Sumac from Zahtar? Asian sauces gathering dust in your kitchen?
A lot of people tend to avoid some of these wonderful products simply because they don't know how to use them. Here's the low down on some of the popular imported, and locally made, world tastes available at Moore Wilson's Fresh.
Asian, Mediterranean, American and South American flavours simply lend themselves to summer dishes. Take a step out of your comfort zone and stock up your pantry with some different spices, sauces and pastes - you won't look back!
Bulldog Tonkatsu Sauce A popular Japanese condiment, this flavour-packed sauce is made to be served with 'Tonkatsu' - a traditional breaded, deep-fried pork cutlet. It also pairs well with other meats.
S&B Nanami Togarashi Nanami literally means "seven flavours" in Japanese. This tasty blend is made up of chilli pepper, orange peel, black and white sesames seeds, Japanese Pepper, Ginger and Seaweed.
Urban Hippie Miso Paste Miso is one of Japan's traditional fermented foods. This one is hand crafted in Nelson and fermented for more than 6months. Use for soups, stir fries, marinades, dips and more.
Obento Cooking Sake A rice based staple of Japanese cooking. Use to add extra flavour to meat, fish and vegetables. Combine with Mirin and Japanese Soy Sauce for a tasty dipping sauce.
Kewpie Japanese Mayonnaise Regarded as the best mayonnaise in the world. Made from egg yolks only rather the whole eggs plus rice vinegar, soy based vegetable oil and a touch of the flavour enhancer MSG.
Megachef Premium Oyster Sauce Made in Thailand from real oysters. All natural production methods contribute to an elusive savouriness known as 'Umami', the so-called fifth taste, which gives depth and length on the palate. Use for stir-fries, braises or marinades.  Contains no MSG, colour and artificial flavours.
Megachef Premium Fish Sauce Created using only the finest quality anchovies and sea salt. Natural fermentation of 2 years contributes to its rich briny saltiness, yet rounded and clean taste. Excellent for stir-fries, curries or sauces. Megachef Premium Fish Sauce is gluten free and preservative free, and contains no MSG and artificial colours.
Surasang Kimchi Hot Sauce  A spicy and sour Korean sauce. For something different, try as a dipping sauce with fried chicken or mix through your next batch of popcorn.
Huy Fong Sriracha  Made in California from sun ripened chillies, this is the original Sriracha sauce. A delicious, spicy addition to any meal.
Culley's Buffalo Wing Sauce Auckland hot sauce producer Culley's take on a classic USA Buffalo style wing sauce. Available in Mild and Hot (6/10 heat factor).
Alderson's Smoky Morepork BBQ Sauce An all-natural (contains no refined sugar!), family friendly condiment that goes great with beef, pork, chicken, pizza and veggies.
Culley's No1. Hot Sauce Culley's award winning 'Reserve' hot sauce, made from a selection of the finest NZ grown chillies.
El Yucateco Annatto Achiote Paste A versatile Mexican seasoning paste made from high-quality annatto seeds, grown on Mexico's Yucatan Peninsula. Use a generous amount to marinade chicken, beef and pork, or prepare a succulent "Cochinita Pibil" - a traditional Mexican slow-roasted pork dish.
La Morena Chipotle Peppers in Adobo Sauce Smoky chipotle chillies in a tomato-vinegar sauce from La Morena, one of the top distributed brands in Mexico. Just add a few chipotles with a bit of the adobo sauce to soups, stews, and sauces.
La Boca Loca Salsa Verde Tangy tomatillo and serrano chilli salsas from Miramar's Mexican experts. A must try with La Boca Loca's authentic totopos (corn chips).
 Al Rabih Pomegranate Molasses A dark, tangy syrup made by reducing pure pomegranate juice. It has a sweet yet almost lemony/tamarind flavour. Use in dressings and marinades in place of vinegar and honey.
Al Rabih Rosewater  A vital ingredient for many Middle Eastern desserts and Turkish Delight.
Pariya Range An exclusive selection of Persian products that are unique, simple, elegant and delicious including Rose Buds, Barberries and Slivered Almonds. Pariya also produce a Wild Willow Water which is often used as an alternative for Rosewater and is great for use in
vodka-based cocktails and homemade ice creams.
Alexandra's Tajine Spice A rich blend of 13 tasty spices, including sweet paprika, caraway, cumin, ginger and coriander. Increasingly popular for the Moroccan tajine or slow cooking.
Alexandra's Zahtar A classic Middle Eastern herb and spice blend including thyme, sumac and sesame seed. Use with chicken or fish, or sprinkle onto pita breads with a drizzle of oil and bake in the oven for a true Mediterranean treat.
Le Phare du Cap Bon Harrisa Paste Harissa is a North African hot red sauce or paste. It's main ingredients are chili peppers (often smoked or dried) and garlic. Though most closely associated with Tunisia and Algeria, it is a standard ingredient of North African cuisine.Harissa often contains seeds like coriander, caraway, or cumin, and usually olive oil. It is used both as a condiment and as an ingredient in recipes. A NZ made Harissa is also available from Adventure Kitchen.
 Equagold Aromatic Sumac A tangy lemon-flavoured spice, made from the berries of a wild bush that grows in the Mediterranean. Commonly rubbed on to kebabs before grilling and paired with fish or chicken. Equagold's Sumac is imported from Syria and is of the finest quality.
St Andrews Limes Preserved Lemons Preserved in salt and vacuum packed. To use, discard flesh and slice finely. Great in potato, green & bean salads, rice, couscous and lamb dishes.
These are just some of the Asian, Mediterranean, American and South American products available - visit us instore for our full range and more great tastes from around the world!