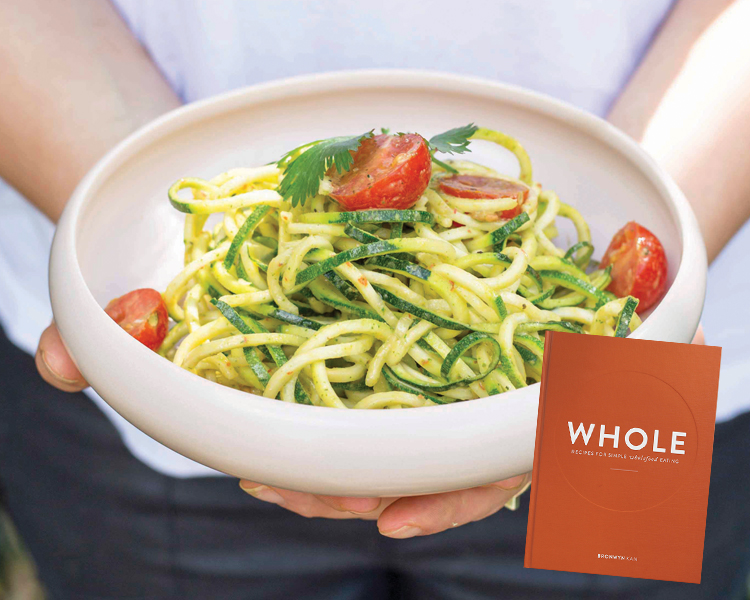 Coriander, Lemon & Chilli Courgette Noodles

Recipe by Olivia Scott The Raw Kitchen
Republished with permission from WHOLE: Recipes for Simple Wholefood Eating compiled by Brownwyn Kan.
INGREDIENTS
4 large courgettes
Juice of 4 lemons
3 Tbsp olive oil
1 tsp Himalayan rock salt
2 Tbsp cashews
1 cup (20g/0.7oz) fresh coriander
1 chilli
1 cup (150g/5.3oz) cherry
tomatoes, halved
Sunflower or pumpkin seeds,
to garnish
Sea salt and cracked black pepper,
to taste
EQUIPMENT:
Spiraliser, mandolin or peeler
INSTRUCTIONS
With a spiraliser or mandolin, process the courgettes and place into a bowl. Alternatively, you can shave the courgettes with a peeler then cut into ribbons.
In a food processor or blender, blend the lemon juice, olive oil, salt, cashews, coriander and chilli (you may want to remove seeds to reduce heat). Season to taste with salt and pepper. Toss the sauce through the courgette noodles and garnish with halved cherry tomatoes and seeds.
Serves 4