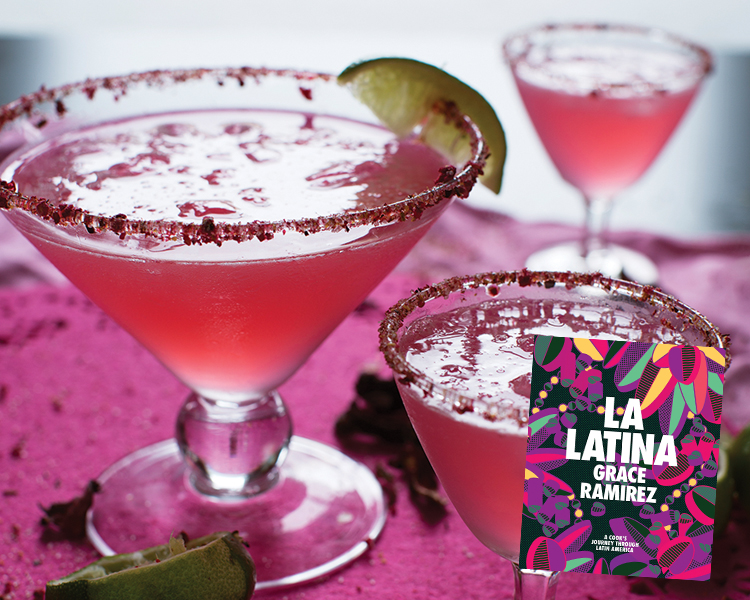 La Latina Hibiscus Margaritas

'Margarita con Flor de Jamaica'  
Serves 4.
Hibiscus drinks, with our without alcohol, begin with a beautiful plum-red tea made from dried hibiscus blossoms. This recipe is from the hot new Latin American cookbook 'La Latina' by Grace Ramirez - available instore and online now!
INGREDIENTS
Hibiscus water
1 litre water
¼ cup dried hibiscus flowers
For the rims
1 tbsp chilli salt
2 tsp freeze-dried raspberry powder
1 lime wedge
Margaritas
50 ml lime juice
250 ml tequila
100 ml triple sec
250 ml hibiscus water
150 ml simple syrup (see Tips below)
750 ml ice (crushed or cubes)
INSTRUCTIONS
Bring water to a soft boil in a medium-sized saucepan. Turn heat off and add dried hibiscus flowers. Let them infuse for about 10 minutes. Strain into a container. Cool in the refrigerator.
Combine chilli salt and raspberry powder in a small bowl. Spread onto a small plate. Coat rims of chilled glasses with the juice from the lime wedge. Dip rims into chilli salt/ raspberry mixture.
Combine margarita ingredients in a blender and pulse until smooth, or simply stir together with a wooden spoon. Pour into prepared glasses and serve immediately.
TIPS
Chefs notes This recipe makes more hibiscus water than is needed. You can use the extra to make a bigger batch for you and your friends (not a bad option), or keep it in the refrigerator for up to a week, or add lemon and sugar to make a hibiscus lemonade.
Tio Pablo Dried Hibiscus Flowers and Fresh As Freeze Dried Raspberry Powder available from Moore Wilson's Fresh Markets.
To make the simple syrup, put equal parts of sugar and water in a saucepan and bring to the boil. Reduce heat to a simmer and stir for a minute or two until sugar dissolves. Remove from heat and allow to cool completely before use.
Reproduced with permission from La Latina, by Grace Ramirez. Published Random House NZ). Text copyright ©Grace Ramirez, 2015. Photographs copyright ©Garth Badger, 2015.