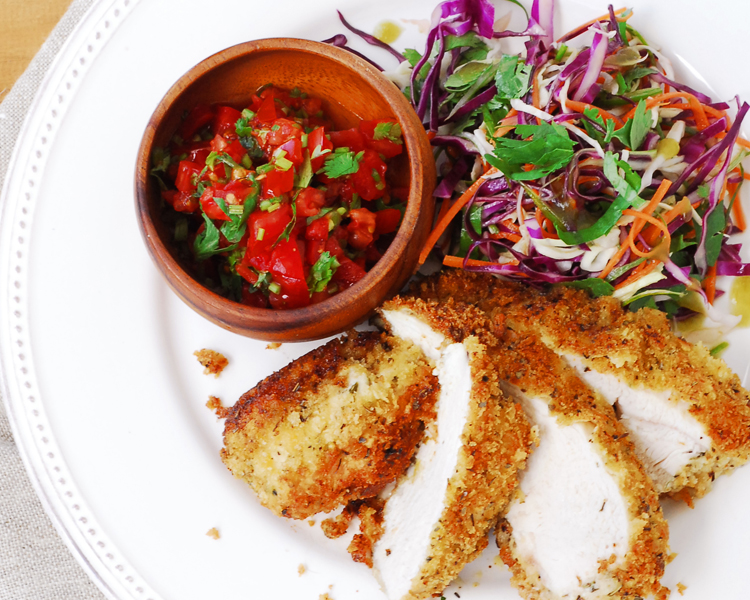 Culley's Crumbed Chicken with Spicy Slaw

Serves 4.
INGREDIENTS
For the Chicken
4 chicken breasts, skinless
Culley's Japanese Panko Crumb (Peri Peri, Lemon Herb or Rosemary, Chilli & Garlic)
2 eggs
Salt and pepper
For the Slaw
½ green cabbage
2 carrots, finely shredded
2 stalks of celery, thinly angle sliced
2 apples, cut into matchsticks
1 Tbsp (or more!) Culley's Green Chile Hot Sauce
2 spring onions, thinly sliced
juice of 1 lime or lemon
¾ cup mayonnaise or creme fraiche
Salt & Pepper to taste
INSTRUCTIONS
Preheat oven to 170°C.
Whisk eggs and season with salt and pepper. Coat meat in the egg wash. Firmly press Culley's Japanese Panko Crumb into chicken on all sides.
Place crumbed chicken on a lined oven tray and bake until cooked through and golden brown or shallow fry in rice bran oil until crisp and well cooked.
Mix all the Slaw ingredients gently till combined.
Serve with a simple salsa made from chopped tomatoes, onion and coriander. Season to taste with lime, salt and a dash of your favourite Culley's Hot Sauce.
TIPS
Enjoy with a rich, oak-aged Chardonnay