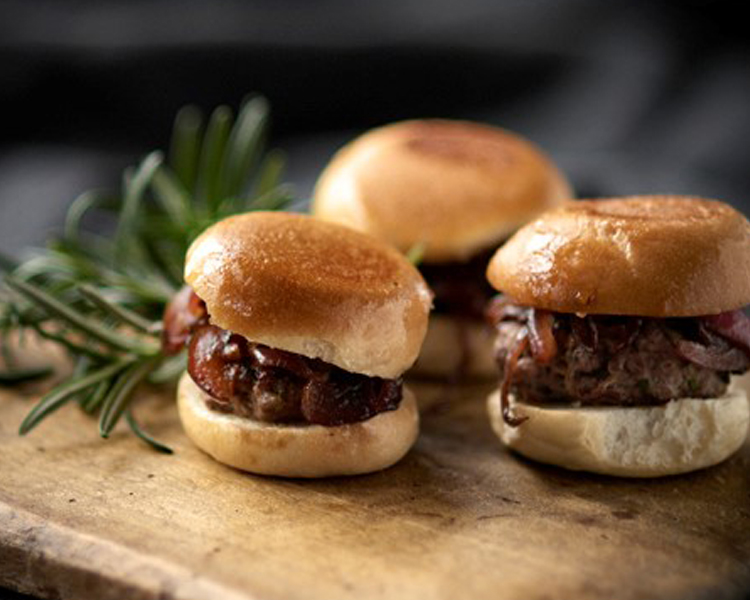 Loaf Mini Burger Sliders with Caramelised Onion Jam

Serves 5.
INGREDIENTS
15 Loaf Sliders, sliced in half
350g premium beef mince
1 large shallot, diced
2 cloves garlic, chopped
1 tsp smoked paprika
1 Tbsp fresh oregano, chopped
1 egg
Red chard
Blue cheese
Onion Jam:
3 large red onions, sliced
1 Tbsp brown sugar
2 Tbsp sherry vinegar
Olive oil
Salt and pepper, to taste
INSTRUCTIONS
For the onion jam – in a small heavy based pan, heat a splash of olive oil. When hot add sliced onions and stir until softened.
Add brown sugar and sherry vinegar and simmer for 5 minutes until reduced and caramelised. Season with salt and pepper and set aside until needed.
In a small bowl combine the beef mince, shallot, garlic, paprika, oregano and egg. Mix together with your hands until well combined. Using wet hands, shape into 15 small balls and flatten down slightly using the palm of your hand.
Heat a large non stick fry pan and drizzle with oil. When hot, fry the burgers and turn until thoroughly cooked. Remove from heat and set aside.
Serve sliders topped with a burger patty, red chard, some blue cheese and a dollop of onion jam.
TIPS
Enjoy with a big, bold Argentinian Malbec