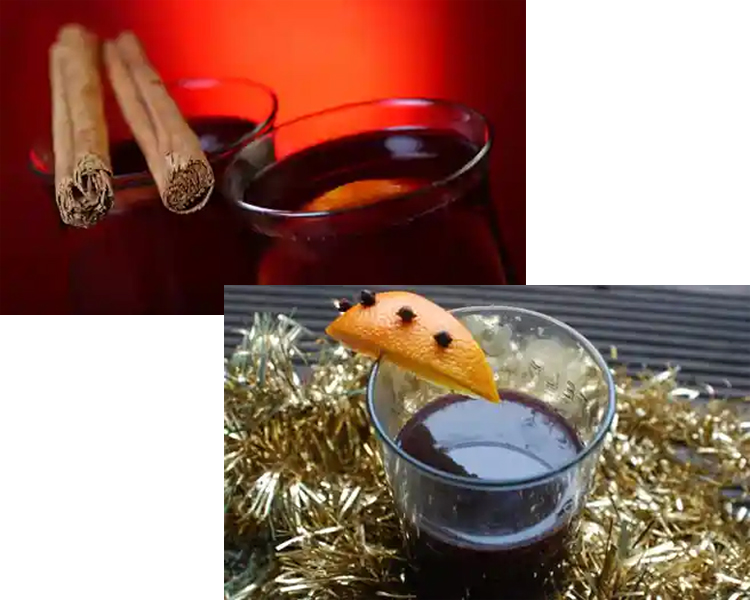 Mulled Wine

With the cooler temperature setting in, warm yourself up with this deliciously spiced mulled wine.
INGREDIENTS
2 oranges, peel and juice
5 cloves
2 cinnamon sticks
3 cardamom pods
2 star anise
150 caster sugar
2 bottles red wine
150ml ginger wine, optional
INSTRUCTIONS
Put orange peel and juice and a pot with the spices and sugar. Just cover the mixture with red wine and stir together. Bring to the boil and boil for 5 minutes or until it is a thick syrup consistency.
Turn down the heat and the rest of the red wine and the ginger wine if using. Bring to a gentle simmer and simmer for 10-15 minutes until heated through and flavourful. Serve.
TIPS
You can put this into sterilised bottles for later use. Store in a cool, dark place for up to three months.
If you have any left over mulled wine, simmer it in a pot for about 20 minutes until it has reduced and become a thick syrup consistency. You can use this syrup for a number of things - soak orange slices, dried figs or prunes in it over night and serve with ice cream or yoghurt for dessert, or simple spoon it over ice cream.
Recipe source: Felicity Cloake, The Guardian