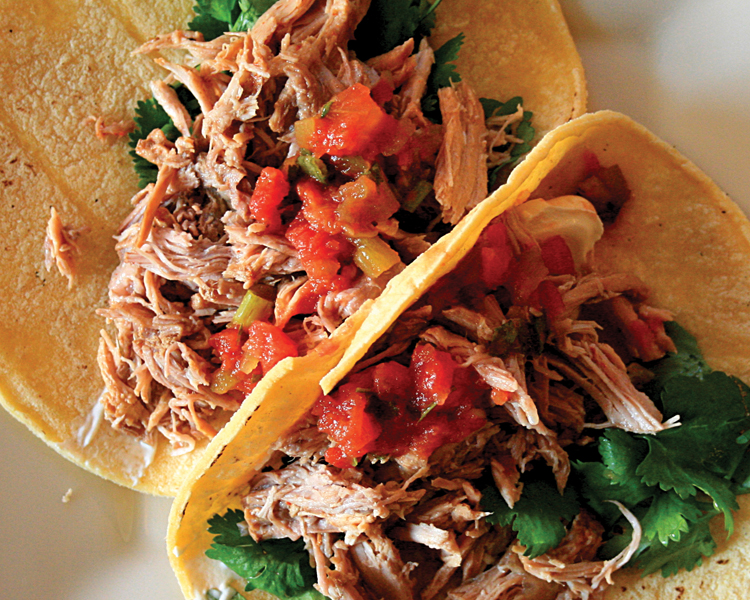 Freedom Farms Mexican Pork Carnitas

Serves 6-8.
INGREDIENTS
2kg Freedom Farms Pork Shoulder
1 onion, roughly chopped
6-8 cloves garlic, peeled
1 Orange (juice, then cut into quarters)
¼ cup of lemon juice
300ml cola (or 1 Tbsp of sugar + 1 cup water)
2 cups of water
2 bay leaves
1 cinnamon stick
1 tsp dried oregano
1 tsp ground cumin
1 fresh habanero chilli
Salt and pepper to taste
To serve:
Corn or flour tortillas
Salsa (store-bought or homemade)
INSTRUCTIONS
Cut pork shoulder into 4 pieces (this will help it to cook faster.)
Combine all the ingredients into a casserole dish or heavy pot, cover with tin foil and lid. Cook on element (or in 120°C oven)
at a low simmer for 2 hours covered and 1 hour uncovered, until soft and tender. If using a slow cooker, cook on high for 6 hours or low for 8-10 hours.
Remove meat from pot and cool slightly then pull apart with fork or by hand (the Mexican way!)
Sizzle the pork in an oiled pan or on BBQ hot plate for a few minutes to reheat and get slightly crispy bits.
Serve on a warmed soft corn tortilla topped with salsa.
TIPS
Suitable pork cuts are bone-in shoulder, boneless shoulder and belly-cut shoulder.
If you don't need all the pork simply freeze it for a quick and easy dinner another night!
Enjoy with an authentic Mexican beer.