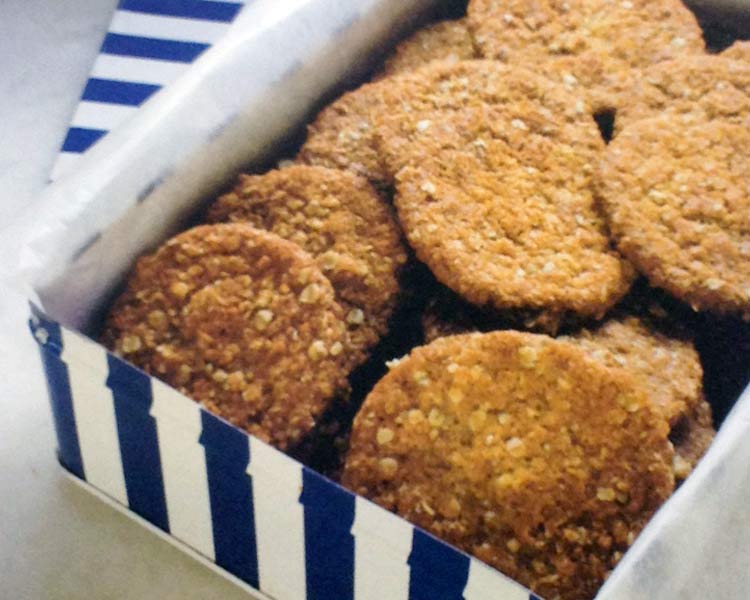 Anzac Biscuits

There are so many variations of the ANZAC biscuit recipe but this classic version from Alexa Johnston's Ladies, A Plate is one of our favourites - thin, sweet, crisp, and chewy in the centre!
INGREDIENTS
1 cup rolled oats
1 cups coconut
3/4 cup flour
1 cup sugar
115g butter
2 tbsp golden syrup
1 tsp baking soda
2 tbsp boiling water
INSTRUCTIONS
Preheat the oven to 180°C and line two baking trays with baking paper, or butter them lightly.
In a large bowl combine the rolled oats, coconut, flour, sugar.
Put the butter in a saucepan and add golden syrup.
Turn on the heat under the saucepan and stir with a wooden spoon until the butter and syrup have melted together.
Put the baking soda in a cup; add the boiling water and mix to dissolve the soda before pouring it into the mixture in the saucepan.
Stir with a wooden spoon, then tip it into the dry ingredients and mix to a crumbly paste.
Drop heaped teaspoonfuls of the mixture onto the cold, prepared baking trays. Leave at least 1 in/26 mm of space around each biscuit as they will spread.
Bake one tray at a time, for about 10-15 minutes until they have spread out nicely and are a dark golden colour.
Cool on a rack, then store in an airtight tin.
Makes about 36.