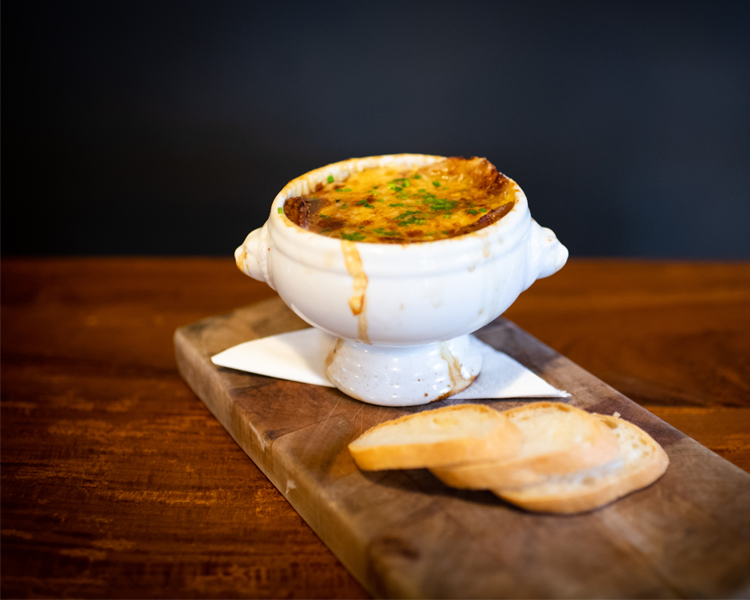 French Onion Soup

Recipe by La Cloche Wellington from the Moore Wilson's 2019 Calendar
INGREDIENTS
2 tbsp extra virgin olive oil
2kg white onion, thinly sliced
2L beef stock or dark chicken stock (ideally a combination of both)
250ml red wine
1/2 French baguette
100g Gruyere, grated
Salt
Fine black pepper
INSTRUCTIONS
Combine extra virgin olive oil, a pinch of salt, and sliced white onion in a heavy bottomed pot. Cook slowly on a medium-low heat until caramelized (40-60 minutes). Add fine black pepper then deglazed with the red wqine.
The secret to La Cloche's onion soup is in the combination of beef and chicken stocks added at this stage but any homemade stock will do. If you have to use  a store bought stock use the low sodium option if available (you can add your own salt to taste).
Toast your sliced baguette 180°C for 8-10 minutes.
Bring the soup up to a simmer for 40 minutes then check and adjust your seasoning. Ladle into soup bowls, top with crusty baguette and the blend of grated cheeses. Place under the grill until the cheese has melted.
Et Voila. Bon Appetit!