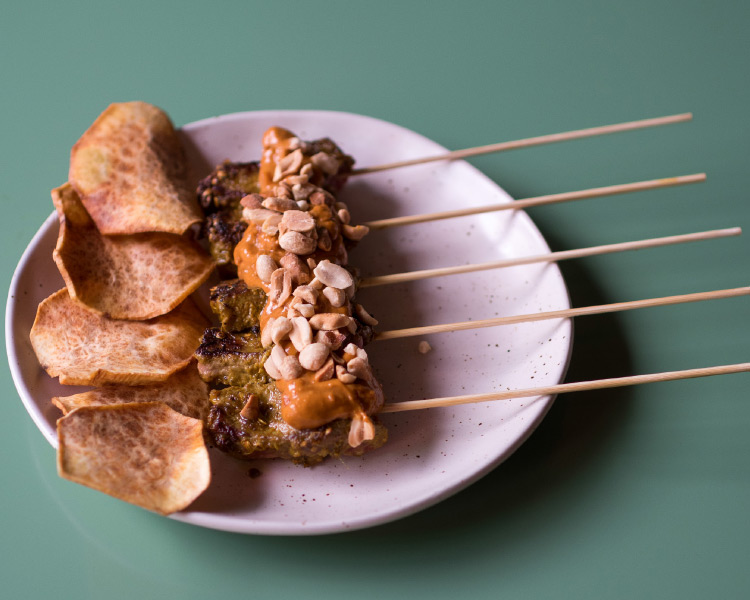 Mr Go's Beef Satay Skewers with Fix and Fogg Smoke and Fire Peanut Sauce

Try this month's modern Asian recipe from Head Chef at Mr. Go's - Vaibhav Vishen.
INGREDIENTS
For the Marinated Beef:
12g coriander seeds
5g cumin seeds
5g black pepper
2 lemongrass stalks
20g ginger, finely chopped
2 cloves of garlic, finely chopped
30g palm sugar, grated
5g salt
100ml coconut cream
1kg beef sirloin
For the Sauce:
200g Fix and Fogg Smoke and Fire
Peanut Butter
40ml soy sauce or kecap manis (if sweeter preferred)
3 cloves of garlic
100ml boiling water
1 Tbsp soy bean oil
pinch of salt
INSTRUCTIONS
For the beef, toast seeds and pepper for about 1 minute over a medium heat.
Cool, then combine all ingredients (except beef) into a food processor and blend to a smooth paste. Add more coconut cream or a little oil if necessary.
Slice/dice the sirloin into pieces about thumb size (30-40g optimum) or to your preference. Toss beef through marinade, covering it all. Marinate overnight, or for a minimum of four hours.
Combine the sauce ingredients, adding boiling water last. Stir quickly and
vigorously to combine. Will store refrigerated for around one week. When using, bring back to room temperature or stir in ¼ cup boiling water to reignite.
To serve, bring marinated beef back to room temperature. Sear off pieces for 1-2 minutes each side in a hot pan with a little oil. Serve with peanut sauce atop and garnish with dry roasted peanuts and coriander. For extra crunch, Mr Go's also garnish with kumara crisps; thinly slice or mandolin kumara before shallow frying or oven roasting at a low temperature for 50 minutes.
Makes 25-35 skewers