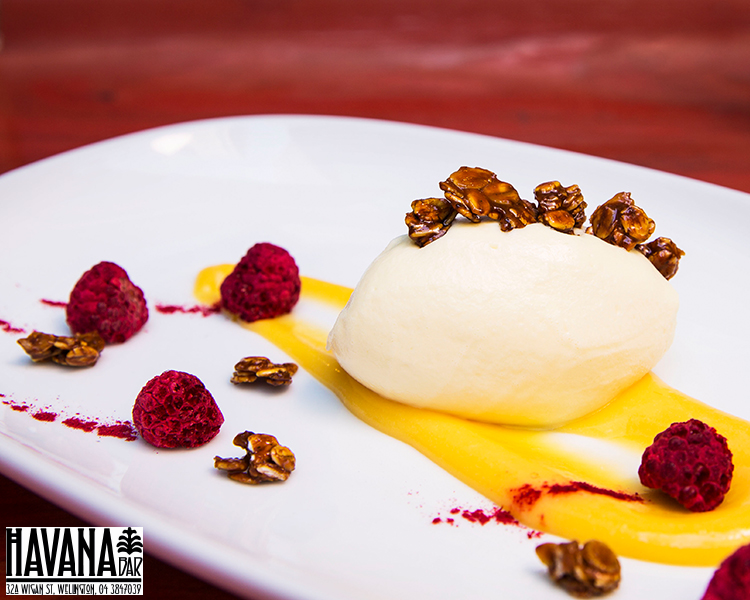 Havana Bar White Chocolate Cream with Lime Curd & Caramelized Oats

Sweet white chocolate cream, tart lime curd and crunchy caramelized oats - combine them all in one mouthful and your taste buds will sing. A perfectly balanced dessert from the Havana Bar team. Serves 4, generously.
Recipe featured in the Moore Wilson's Recipe Collection Tin and 2017 Recipe Calendar.
INGREDIENTS
White Chocolate Cream
100ml cream
225g white chocolate, chopped
200ml cream, semi-whipped
Lime Curd
25g butter
1 egg, whisked lightly
25g sugar
40ml lime juice
½ lime, zested
Caramelized Oats
1 Tbsp butter
1 Tbsp brown sugar
1 Tbsp honey
50g whole grain oats
INSTRUCTIONS
White chocolate cream: Bring 100ml cream to a near boil in a small pan, now
add chocolate and turn down heat to its lowest setting or even off the heat for a
while and stir until melted. Pour into a bowl and cool to room temperature.
Fold a little of the semi-whipped cream into the cooled chocolate mix to lighten then fold the rest in until combined and slightly thickened. Pour into small ramekins (if using) or leave in the bowl to set.
Lime curd: Slowly melt butter in a small pan then add remaining ingredients and cook on a low heat until thickened, remove from heat occasionally to keep from curdling, cool.
Caramelized oats: Melt first three ingredients together in a large frying pan then add oats. Stir until the oats start to caramelize. Pour onto a plate to cool, break apart.
Serve white chocolate cream either in ramekins or spoon out of bowl onto serving plates, dollop a couple of teaspoons of the lime curd around the plate, sprinkle with the oats and freeze dried raspberries, if desired.