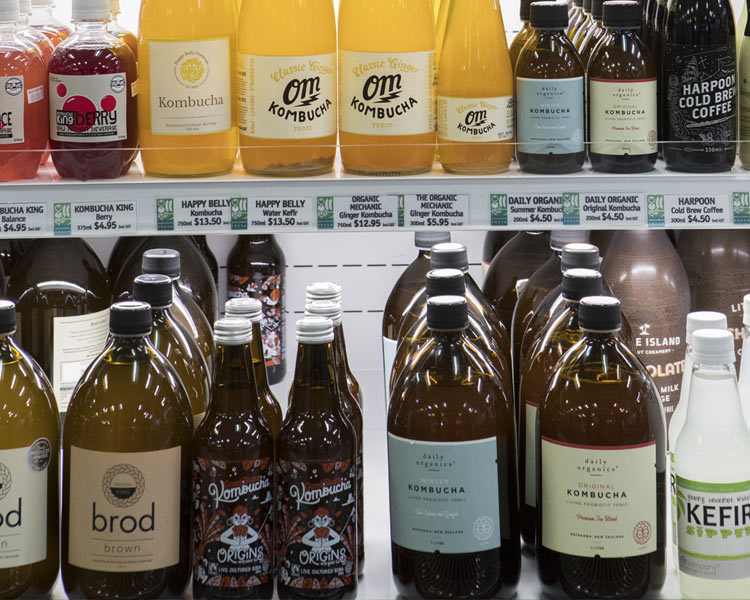 Kombucha

Kombucha is a fermented beverage of black tea and sugar. It contains a colony of bacteria and yeast that are responsible for initiating the fermentation process once combined with sugar. Kombucha has become popular recently for its probiotic qualities. Its fizzy bite makes it a great alternative to sugar-laden soft drinks.
A wealth of research can be found online around the benefits of drinking Koumbucha. Possible benefits include improved digestion, prevention of disease through reduced inflammation, mental clarity, and mood stability.
Kombuchas that are raw and unpasteurised are a living product that must be refrigerated at all times, these varieties are said to have the greatest health benefits.
Following is a guide to the Kombucha brands available at Moore Wilson's Fresh:
Daily Organics
Situated in the quiet rural countryside of Matakana New Zealand, Daily Organics is a unique micro brewery creating traditional wild fermented kombucha. Each small batch is hand blended, individually brewed to a bespoke recipe taking over two months to mature. With no added sweeteners, preservatives, flavourings or additives, Daily Organics Kombucha is 100% Organic Bio Gro Certified and contains no gluten or dairy. Raw and unpasteurised.
Their Original flavour is a traditional brew using a bold blend of black tea, delivering an uncomplicated full body taste with a subtle hint of peachiness. Winter and Summer brews available when in season.
Happy Belly Ferments
Our most local Kombucha, Happy Belly produce both Kombucha and Kefir Water in the Wairarapa.
Happy Belly Kombucha is a raw, natural and active brew, meaning each batch will be slightly different. Unlike Kombucha which is made of tea, Water Kefir is made with  water and sugar which is fermented out, fresh lemon juice and fresh ginger. Typically both contain the bacteria lactobacillus.
Organic Mechanic
Finely craft-brewed and fermented Organic Mechanic Living Probiotic Kombucha from Parnell, Auckland. Ginger infused for extra digestive anti-inflammatory support.
Kombucha King
Kombucha King was first company to brew kombucha commercially in New Zealand. They began production in 2009 in Hawke's Bay and in 2015 became organically certified under AssureQuality. Low in sugar, have no artificial flavours or sweeteners, have no colourings or no preservatives, gluten free and dairy free. Naturally carbonated via the fermentation process. Not pasteurised or heat treated. Flavours available include original, berry and ginger.
Rene's Kombucha
René Archner is an internationally well known living foods chef and advocate for raw eating. René's Kombucha is fermented/cultured for 6-8 days. This, and the use of our selected organic teas, assures a very pleasant flavour. René's Kombucha is not pasteurised and hence contains the live cultures provided by the SCOBY. Available in red berry, pomegranate and lemon ginger.
Goodbuzz
Good Buzz has become extremely popular around New Zealand and can be found in cafes, healthfood shops, supermarkets, gyms, even some bars! It takes a little over two weeks to make a bottle of Good Buzz. A symbiotic culture of bacteria and yeast is put in a sweetened tea brew and the bacteria feed on the sugars converting them into organic acids, which gives kombucha its iconic tang.
Every Good Buzz is certified organic by BioGro NZ, fair trade certified by Fairtrade NZ, approved by the Coeliac Society (certified gluten-free) and approved by the Vegetarian Society of NZ. This is a great one to try if you're new to kombucha with a range of pleasant flavours—feijoa, original, and raspberry lemon.
Due to its live nature, Kombucha is available in store only. Look out for our full range in the fridge at Moore Wilson's Wellington Fresh Market.