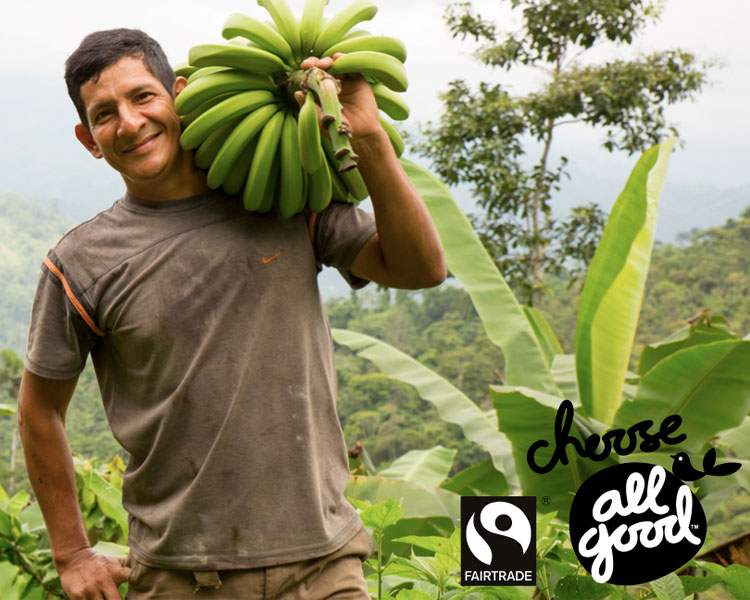 All Good Bananas

On the beach at Piha, three men concocted a plan to bring Kiwis their first taste of Fairtrade fruit. People called them, well, bananas. 
But they had an idea that Kiwis might get behind other people getting a fair go…It turns out they were right.
In 2009, not many New Zealanders knew where their bananas came from, or how hard it was for growers and their families to make a fair living from their produce. So Chris, Simon and Matt decided that day on Piha that it was time for a change.
New Zealand used to source its bananas from the Pacific, but increased demand and better shipping meant importers started looking to cheaper producers in South America and the Philippines.
When they started their search, they looked to the Pacific first. They worked with the Samoa's Women in Business cooperative to create organic banana chunks, but sadly there aren't enough of the beautiful, sweet Misiluki bananas to satisfy New Zealand's appetite for fresh fruit.
Their quest then turned to the other side of the Pacific and El Guabo, one of the world's oldest Fairtrade cooperatives. They landed the first bananas in February 2010, and heaps of Kiwis asked their local stores to stock us.
All Good believe Fairtrade shouldn't be a special term and that all businesses should be fair. That's why they've worked hard to bring Kiwis Fairtrade bananas from the El Guabo cooperative of small farmers in Ecuador because they do more than just fair trading, they make a difference to the lives of growers, their kids, our kids and the land.
Good for the Growers
Fairtrade gives farmers and workers the security of a stable price all year round but it also gives them something else: independence.
On top of the price of bananas, the El Guabo cooperative earn a fairtrade premium (7-10 cents per bunch). Since All Good started importing New Zealand's first Fairtrade bananas in 2010 they've given over $940,000 back to the El Guabo community in Fairtrade premium funding. This has helped to support school kids, a free medical centre, a special needs school and sustainable farming initiatives too.
Good for the Land
El Guabo's small plantations in Ecuador believe in sustainable farming and biodiversity. The cooperative do not use any of the hazardous agro-chemicals listed in the dreaded 'dirty dozen' and Fairtrade standards ban the use of over 120 chemical commonly sprayed on fruit.
Good For You
All Good Bananas are packed full of the good stuff. They are a great source of fibre, vitamin C, potassium and manganese, and a very good source of vitamin B6, making them perfect energy food.
With All Good fair trade bananas you are able to eat healthily with a healthy conscience… and that really is All Good!
Moore Wilson's are proud to stock only fair trade bananas in our Fresh Markets.