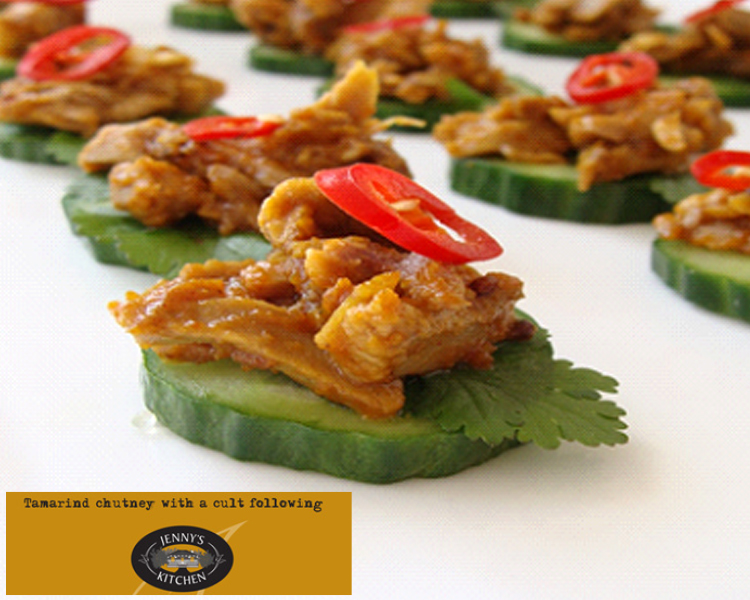 Jenny's Kitchen Tamarind & Duck Canapé

Duck and Tamarind combine beautifully in this stunning festive party starter.
Makes 40-60 small bites.
INGREDIENTS
2 duck legs, roasted and cooled
1 skinny Telegraph cucumber (or 2-3 smaller Lebanese cucumbers)
2 Tbsp Jenny's Kitchen 'Hot' Tamarind Chutney
1 bunch of fresh coriander
1 large fresh red chilli
INSTRUCTIONS
Shred the flesh off the duck legs, taking care to remove the skin and the bones. Mix the duck meat with the Jenny's Kitchen Tamarind Chutney.
Slice your cucumber into approximately 7mm rounds. Place a coriander leaf on each, ensure each leaf extends past the edge of the cucumber so it can be seen once the meat is placed on top. Spoon a teaspoonful of the duck and tamarind mixture onto the centre of each, and top with a fine slice of chilli.
TIPS
If you don't like things hot use Jenny's Kitchen Medium Tamarind Chutney and replace the chilli with a slice of red capsicum.
Some delicious uses for your leftover tamarind chutney:
• Fabulous served with blue cheese, or feta and oatcake crackers.
• Marinade chicken nibbles in tamarind chutney and bake on a lined tray for fragrant, golden caramelised nibbles.
• Smear over salmon prior to baking to create a golden glaze that cuts through the richness of the salmon.
• Swirl through sour cream to make an exotic, interesting dip.
• Create an exquisite Caramelised Onion and Chicken Pizza: Caramelise onions, and brown chicken pieces. Allow them to cool, then spread tamarind chutney over your pizza bases.
Top with onion, chicken, dollops of sour cream and a sprinkle of fresh thyme leaves. Bake as usual. Divine!