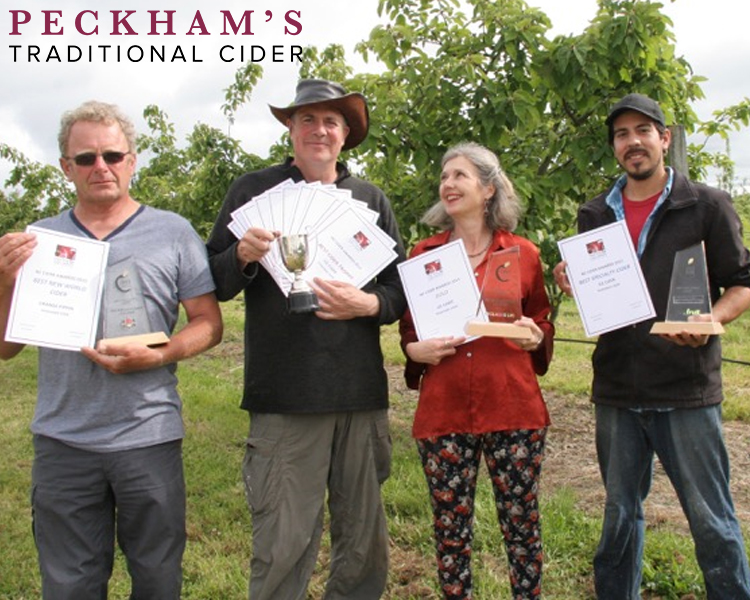 Peckham's Traditional Cider

Peckham's are one of the few New Zealand cider producers who grow apples
specifically for cider making.
Alex and Caroline Peckham planted their first cider apples in New Zealand in 2003. Since then, they have amassed a great deal of experience on growing cider trees and making cider under New Zealand conditions. Clay soils combined with Nelson's exceptional sunlight hours, are famed for producing fantastic, full flavoured fruit.
Peckham's moved on to their current orchard in the Moutere Valley near Nelson in 2006 and have been planting and grafting ever since. They quickly outgrew their first apple press and cidery, and in 2012 built a new cider barn and imported an apple juicing line from Europe. A second tank room followed the year after, and every inch is now full.
Peckham's ciders are made from 100% fresh juice, and are made only in autumn with tree ripened fruit. Fruit is hand harvested before being milled and pressed into rich, intensely aromatic, cider juice. Each type of apple has specific characteristics, and varieties are carefully blended to yield the appropriate acidity levels and balanced tannins.  Key to their complex, full bodied ciders is slow fermenting and ageing the ciders for at least six months.
Subject to availability, you'll find the following Peckham's Ciders at Moore Wilson's Wine, Beer & Spirits:
Homeblock Peckhams' flagship vintage cider is made from the best cider apples grown on their home block orchard. Made in small batches, each blend is matured for up to 18 months. Style: Off-dry style. Rich and full bodied, with a complex flavour profile, balanced in fruit, acidity and tannin.
Moutere Made from tree ripened heritage apples, most of which are traditional English cider varieties. Style: Off-dry. Rounded and spritzy in the mouth with mild tannins, fruity notes and notable flavour development.
Moutere Perry Made on the family orchard from tree ripened pears, grown on the famous Moutere clay near Nelson. Style: Medium-dry. Pale straw colour. Smooth and pleasantly mellow, with sweet, tart, sherbety notes giving way to a ripe pear finish.
Boysenberry Heritage apple cider, with a generous dash of Moutere boysenberry. Style: Medium. Pours a deep red. Rich fruit and intense flavours of boysenberry balanced against a pure, soft apple cider background.
Cardamon Made from traditional cider apples, spiced with aromatic, green cardamon pods. Style: Medium-dry. Refreshing and palate-cleansing, this cider is exotic and deliciously different. Gentle, fragrant aromas combine with tangy acid and perfect sweetness to make a wonderfully balanced drink.
Kir Cider made in the family cidery from tree ripened heritage apples, with a generous dash of Moutere blackcurrant. Style: Medium-sweet. Pours a deep, rich red. Packed with flavours of heritage Moutere apples and pressed blackcurrants. Delightful sweet and acid balance.
Elderflower Made from tree ripened heritage apples, including bittersweet cider apples, infused with wild, handpicked elderflowers. Style: Medium-dry. Floral and delicate, with herbaceous notes. This is a fragrant, vibrant cider, perfect for summer drinking.
Peckham's don't take any short cuts when it comes to cider making and their hard work is certainly paying off. At the 2015 NZ Cider Awards Peckham's entered 13 ciders, all of which achieved medal standard. They were awarded 1 of only 2 golds and 9 of total 17 silvers. (The above picture show a happy Peckham's team with their awards haul!)
Alex & Caroline aren't planning of expanding their operations in the near future instead they will focus on making their ciders ever better and experimenting with new cider making techniques.
Cider fans make no mistake; this small but dedicated team of hands-on cider makers are one to watch!