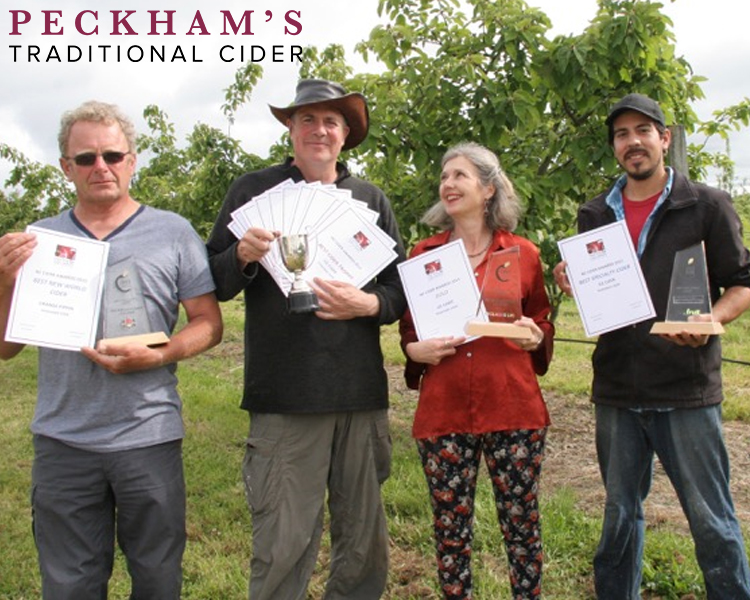 Peckham's Traditional Cider

Peckham's are one of the few New Zealand cider producers who grow apples
specifically for cider making.
Alex and Caroline Peckham planted their first cider apples in New Zealand in 2004. Since then, they have amassed a great deal of experience on growing cider trees and making cider under New Zealand conditions. Clay soils combined with Nelson's exceptional sunlight hours, are famed for producing fantastic, full flavoured fruit.
Peckham's moved on to their current orchard in the Moutere Valley near Nelson in 2006 and have been planting and grafting ever since. They quickly outgrew their first apple press and cidery, and in 2012 built a new cider barn and imported an apple juicing line from Europe. A second tank room followed the year after, and every inch is now full.
Peckham's ciders are made from 100% fresh juice, and are made only in autumn with tree ripened fruit. Fruit is hand harvested before being milled and pressed into rich, intensely aromatic, cider juice. Each type of apple has specific characteristics, and varieties are carefully blended to yield the appropriate acidity levels and balanced tannins. Key to their complex, full bodied ciders is slow fermenting and ageing the ciders for at least six months.
Subject to availability Peckham's Ciders are available at Moore Wilson's Wine, Beer & Spirits.
When it comes to cider making and their hard work is certainly paying off. At the 2019 NZ Cider Awards Peckham's won six out of seven categories, including Fruit, Modern, Traditional, Spice Botanicals or Honey, Specialty and overall NZ Cider Champion for their Brown's Apple Cider.
Alex & Caroline aren't planning of expanding their operations in the near future instead they will focus on making their ciders ever better and experimenting with new cider making techniques.
Cider fans make no mistake; this small but dedicated team of hands-on cider makers are one to watch!