Puhoi Valley 'Half and Half' French Toast

Puhoi Valley Half & Half is a fresh, organic blend of milk and cream ideal for pouring over cereal and porridge or for use in place of milk and cream for indulgent baking and decadent sauces.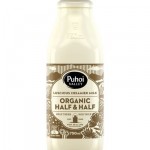 INGREDIENTS
180ml Puhoi Organic Half and Half
4 eggs
6 thick slices brioche
25g butter
To serve:
Fresh strawberries, sliced or other seasonal berries
Maple syrup
Icing sugar, optional
INSTRUCTIONS
Whisk half and half and eggs together in a large shallow dish. Place in the brioche slices and allow to soak thoroughly, then turn over and soak the other side.
Heat a large frying pan over a medium-high heat and melt half the butter.
Add 3 slices of brioche to the pan and cook until golden. Turn over and cook the other side until golden. Repeat with remaining brioche.
Serve straightaway with sliced strawberries and drizzle with maple syrup.
Serves 3-4.
Recipe © 2015 Puhoi Valley.