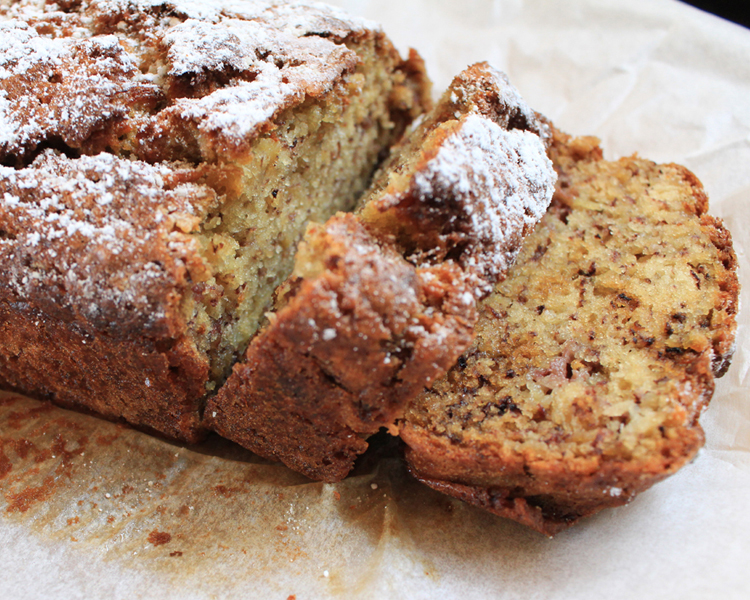 J. Friend & Co Banana and Manuka Honey Bread with Honeyed Labneh

INGREDIENTS
2 cups Flour
1 tsp Baking Soda
½ tsp salt
125g butter, softened
½ cup brown sugar
2 Tbsp J. Friend and Co Manuka Honey
2 eggs beaten
2 1/3 cups mashed over-ripe bananas (approx 4 large banana)
Labneh:
1 cup thick plain Greek yoghurt
2 Tbsp J. Friend and Co Manuka Honey
INSTRUCTIONS
To prepare the labneh, strain the yoghurt in a paper towel lined sieve and place in the refrigerator for at least 4 hours or overnight. Lightly stir the Manuka honey into the strained yoghurt before serving.
For the bread, preheat oven to 180°C. Grease and line with baking paper one loaf tin. Cream butter and sugar, add the manuka honey then eggs and beat well, add the mashed banana then gently fold in the sifted dry ingredients. Stir until just combined and spoon into the prepared loaf tin. Bake 50-60 minutes until golden brown and an inserted skewer comes out clean. Allow to cool, slice thickly and serve with honeyed Labneh and drizzle with extra warmed manuka honey if desired. The banana bread will keep well in a sealed tin for 2-3 days and is equally delicious toasted.
Find me in the MW Recipe Collection.