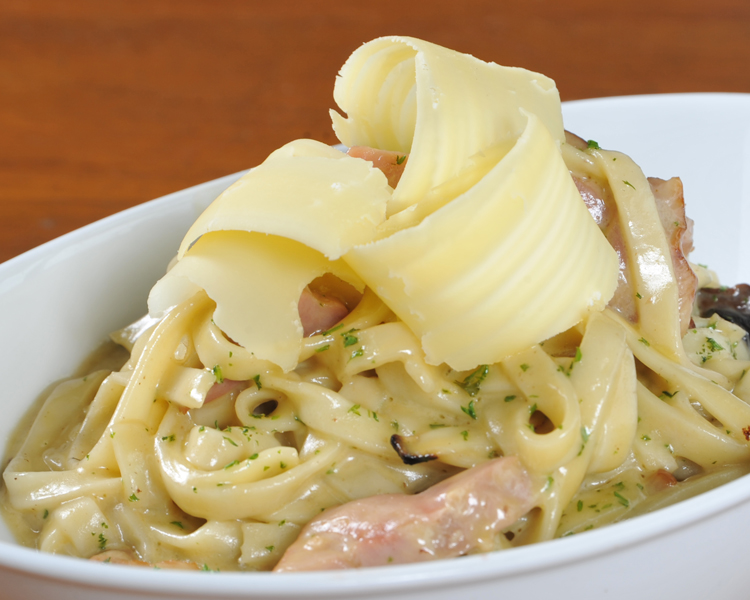 Meyer Gouda Cheese Carbonara

Serves 4.
INGREDIENTS
600g fresh linguini pasta (or 300g dry pasta)
400ml cream
2 cloves fresh garlic, sliced
4 portobello mushrooms, sliced
200g champagne ham, sliced
200g streaky bacon, chopped
150ml chicken stock
Handful fresh herbs (thyme, flat leaf parsley etc), finely chopped
Splash of white wine
100g Meyer Old Gouda (or your favourite Meyer cheese)
Salt & pepper, to taste
INSTRUCTIONS
If using dried pasta, cook to packet instructions, then rinse under cold running water and reserve.
Heat sauté pan until smoking, add a small amount of oil then add garlic, mushrooms, ham and bacon. Allow ingredients to colour. Give the pan a bit of a toss so as not to burn and to gain even caramelisation.
Add a splash of white wine to deglaze the pan, add the stock and bring liquid to a simmer then add the cream.
If using fresh pasta add to simmering pan of goodies now so the pasta infuses as it cooks (should take about 4 minutes to cook pasta to al dente). Simmer to reduce liquid and cook pasta. If using cooked dried pasta, add near end of simmering process to heat through. Taste & season as required.
Give the pan a little toss to fully incorporate & evenly spread the ingredients.
Place the carbonara in bowls and sprinkle with some more fresh herbs.
Liberally shave Meyer gouda over top to finish.
TIPS
Many of the ingredients in this dish can be changed at your discretion, i.e. streaky bacon to any bacon you have, Portobello mushrooms to buttons or Swiss browns - just don't skimp on the gouda!
Enjoy with Kiwi or Austrian Grüner Veltliner