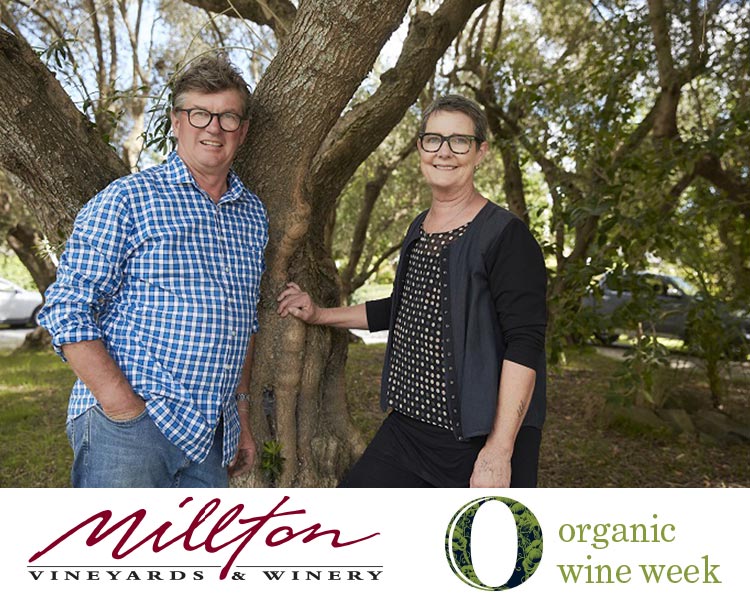 Millton Organic Wines

In 1984 James and Annie Millton established The Millton Vineyard on the banks of the Te Arai River near Manutuke, Gisborne, where the early settlers first planted grapevines in 1871.
Originally Annie's father, Mr John Clark, had developed vineyards on his estate at 'Opou' in Manutuke during the late 1960's. James and Annie returned to Gisborne after experience gained in the famous wine regions of France and Germany including Champagne Bollinger, Maison Sichel in Bordeaux and Weingut Kurstner in Rheinhessen. By 1983 they had extensively researched and replanted major parts of the families' grape growing business, before establishing The Millton Vineyard.
Even Millton's earliest releases were of high quality, not only winning favour with foundation customers, but pleasing the wine judges as well. Recognition was rapidly achieved winning numerous trophies and gold medals for the traditionally styled Riesling and Chenin Blanc. Internationally, gold medals were awarded for the 1992 Gisborne Chardonnay at the International Wine Challenge in London. This wine then went on to win the trophy at the International Organic Wine Challenge Fair, while two other Millton wines entered came second and third.
A similar result was achieved at the 2004 San Francisco Wine Fair with Gold medals for the Riesling and Chenin Blanc. The Chenin Blanc also won the trophy, moving it into the position of its current prestige as being a new-world wine classic gaining inclusion in Neil Beckett's, "1001 wines to drink before you die" (Published by Penguin in 2008).
Millton was the first producer in New Zealand to gain Bio-Gro certification for organic wine production in 1989. Having practiced traditional methods of cultivation and production centred on biodynamic principles since inception, Millton were the first winegrowers in the Southern Hemisphere to gain the biodynamic certification Demeter in 2009. This involves growing the grapes without the use of herbicide, insecticide, systemic fungicides or soluble fertilisers, as well as adherence to the rhythms of nature; the earth, sun, moon and beyond!