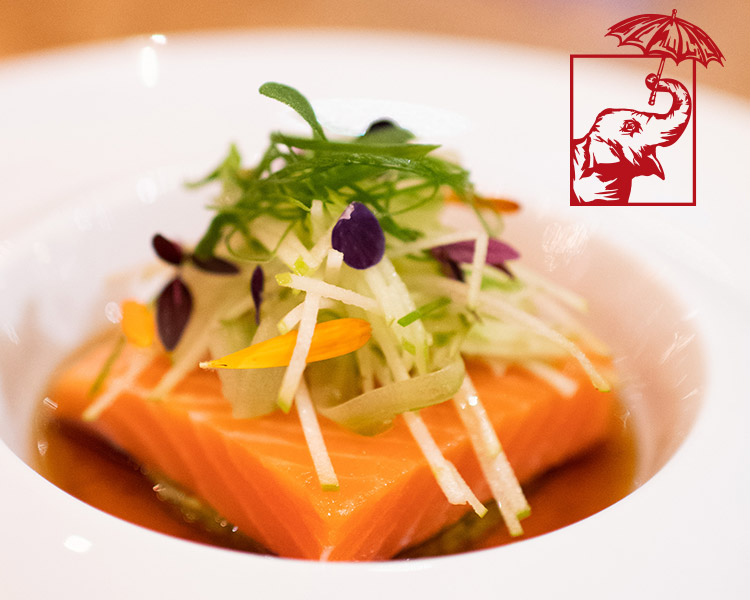 Monsoon Poon's Cured Salmon w/ Green Curry Pea Puree and Beer Caramel

Since 2001, restaurant Monsoon Poon has been spicing up the lives of Wellingtonians and visitors alike with favourite dishes from Thailand, Malaysia, India, China and Indonesia.
This recipe was shared by Monsoon Poon Wellington Chef Albert Zhang for Moore Wilson's 2019 Recipe Calendar.
Serves 4.
INGREDIENTS
200g each salt and sugar
400g skinless and boneless salmon loin
10g coriander seed, crushed
½ bunch fresh coriander, roughly chopped
zest of 1 lemon
zest of ½ orange
80ml Lot 8 Flavours of the East olive oil
Green Curry Pea Puree
250g frozen green peas, thawed
100ml coconut cream
25g butter
⅓ tsp green curry paste
Beer Caramel
150ml Garage Project Hapi Daze beer
20ml Zhen Jiang black vinegar
200g sugar
1 granny smith apple, julienned
micro greens
INSTRUCTIONS
Mix the sugar and salt, crushed coriander seed, lemon zest, orange zest, and fresh coriander then rub all over salmon and leave for 45 minutes.
For the green curry pea puree; put the butter in a pot, add the green curry paste and bring to a simmer. Add the green peas and coconut cream, bring to boil then blend to puree. Salt to taste.
For the beer caramel; place a saucepan over a medium heat, heat sugar to a caramel, then carefully add the beer. Bring to boil, then turn to low heat and reduce for about 8 minutes, after that add the black vinegar to taste. Cool down to room temperature.
Wash off all the ingredients from the salmon and pat dry with a paper towel. Place the salmon with 60ml of Lot 8 Flavours of the East olive oil in a ziplock bag. Remove the air before sealing. Fill a large pot with water and, using a thermometer to check, bring water up to 40°C . Drop bag in and cook for 60 minutes. You will need to stir water so that the temperature is even throughout the process. Constantly monitor the temperature and adjust the heat to keep the water at 40°C. Remove the packaged salmon from water bath and submerge in an ice bath. Refrigerate for at least 4 hours to allow texture to set.
Cut salmon into four pieces and place in four shallow bowls, top each piece with a couple of tablespoons of the green curry pea puree. Garnish with apple and then top with microgreens. Pour beer caramel around edge to taste.