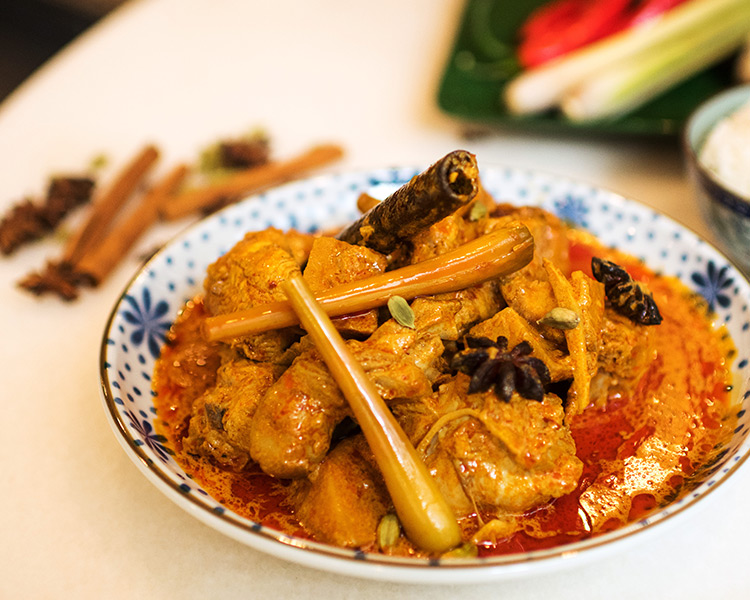 Little Penang's Nyonya Chicken Curry

Recipe by Little Penang from the Moore Wilson's 2019 Calendar
INGREDIENTS
2 star anise
3 cloves
2 cinnamon sticks
5 cardamom pods, slightly bruised
2 sticks lemongrass, slightly bruised
thumb of ginger, thinly julienned
5 Tbsp vegetable oil
Spice Paste
30g (or 15 whole) dried chilies soaked in warm water (de-seeded if not wanting
too spicy)
200g shallots, peeled and sliced
3 garlic cloves
20g belacan (dried shrimp paste), toasted
2cm turmeric, grated (fresh or frozen)
3 Tbsp coriander seeds
1 tsp cumin seeds
1 tsp fennel seeds
1.5kg meaty chicken pieces (preferably bone in and skin on thighs)
300g Agria potatoes, skin off and cut into 3 cm wedges
500ml coconut milk
1 cup water
1 Tbsp salt or to taste
½ tsp sugar
INSTRUCTIONS
Grind spice paste till fine using a mortar and pestle or blender.
Heat wok or pot over low heat, then place in star anise, cloves, cinnamon sticks, and cardamom pods. This is to draw out the oil naturally from these spices. Once spices turn brownish and fragrant, add in oil and ginger slices
Add in blended spice paste and continue to fry over a low heat until fragrant and oil separates. Add in a bit more oil and a couple of spoonfuls of water if necessary to keep paste from burning or drying up. Add in lemongrass sticks.
Add chicken, fry for a minute and add in a cup of water. Add potatoes and simmer until chicken is tender and potatoes cooked.
Lastly, add in coconut milk and season to taste with salt and sugar. Continue to cook until gravy thickens. If curry is thicker than preferred add a bit more water. Switch off once boiled. Do not over boil or coconut milk will split.
Serves 4-5 with rice.
TIPS
To keep potatoes whole, deep fry first to sear the edges before adding into the curry towards the end of the cook.