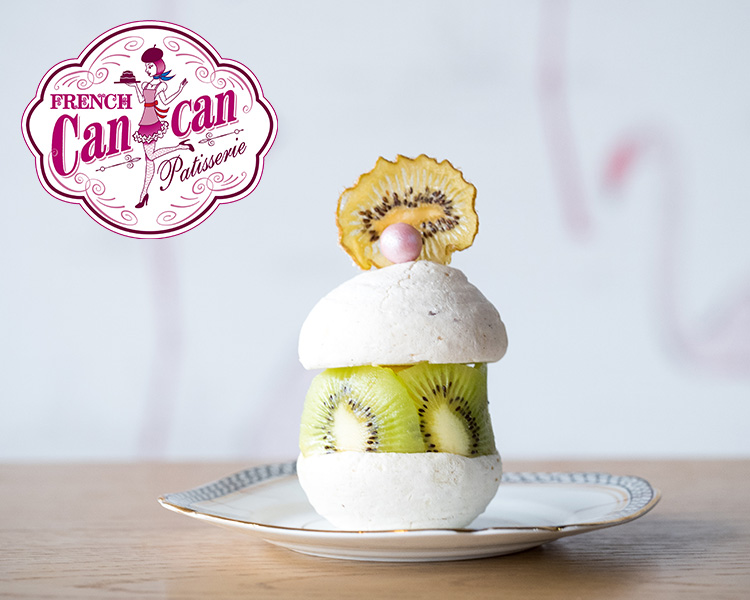 French Cancan's Kiwi Macaron with White Chocolate Cream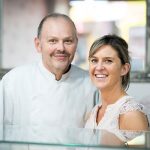 Recipe shared by Eric Hausser & Sophie Dubois for Moore Wilson's 2020 Calendar.
French Cancan
100 Riddiford Street, Newtown
Find them on Facebook!
INGREDIENTS
Meringue Shell
75 g water
110g egg white, whipped
300 g sugar
110g egg white
300g  icing sugar
300g ground almonds
Cream Filling
150g cream
zest of 3 lemons
1 gelatin sheet
7g cold water
40g white chocolate
To serve
 10 fresh kiwi fruit
INSTRUCTIONS
For the meringue shell, heat water and sugar together in a saucepan to 115°C then pour into the first measure of egg white and whisk until cold.
Mix icing sugar with ground almonds and the second quantity of egg white.
Combine the two mixtures together and whisk for 3 minutes.
Put this mixture into piping bag and twenty 10cm meringue shells on a baking paper lined tray then bake for 15 min at 150°C.
To make the cream filling, put gelatin into 7g cold water and soak for 20 minutes. Boil half of cream with lemon zest for 10 minutes then put aside.
Combine soaked gelatin with boiled cream and white chocolate then add the other half of the cream. Rest overnight in fridge.
The next day, whisk the mixture in your stand mixer. Using a piping bag fill up the meringue shell. Then slice kiwifruit and start placing kiwi slices around the cream. Once all done add the top meringue shell.
Makes 10.