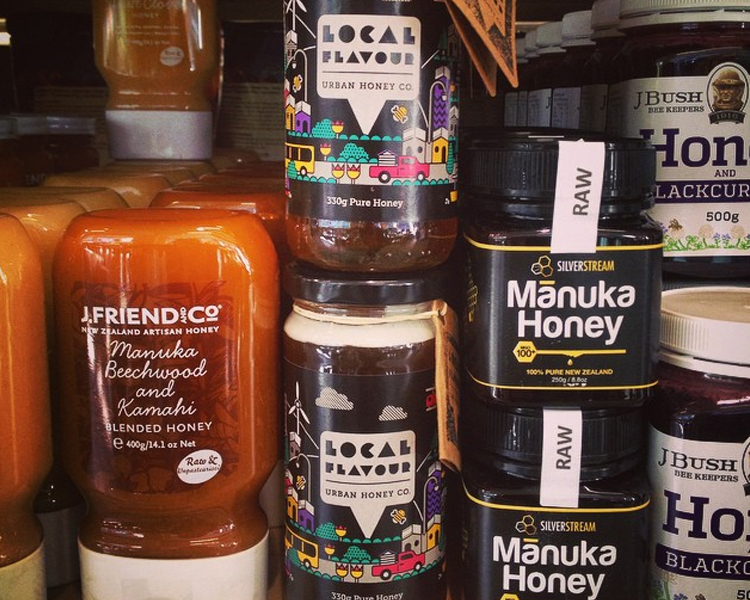 New Zealand Honey

Honey has a long history of human consumption. Apparently humans began hunting for honey at least 8000 years ago as evidenced by some ancient cave paintings found in Spain. Honey is also found in the records of ancient Egypt and it is acknowledged that the art of beekeeping has existed in China since time immemorial.
Honey, of course, is made by bees using nectar from flowers. Honey gets its sweetness from a combination of fructose and glucose. These two sugars don't need to be broken down by our digestive system so honey is quickly absorbed into the bloodstream, giving a quick energy boost to the body.
The flavour of the honey depends on the plants and flowers where the bees have collected their nectar and this is why New Zealand honey is quite special. New Zealand's long isolation from the rest of the world and its island biogeography means that the flora and fauna here is extraordinarily unique. About 80% of this flora only occurs in New Zealand and this uniqueness has a remarkable influence on our locally produced honey. One of the most common examples of this unique flora is Manuka, a local evergreen tree. The intensely scented Manuka flowers bloom in summer and bees absolutely love them.
Today there is even a registered trademark called UMF which means Unique Manuka Factors. It has become a world renowned trademark because Manuka honey is internationally acknowledged as having anti-bacterial properties that remarkably support the body's health and well-being. In particular 15+ Manuka Honey is being increasingly used in the treatment of burns.
Along with being renowned for its health properties, Manuka honey is a wonderful eating experience. The dark cream to dark brown honey has a distinctive taste profile; slightly bitter, herbaceous, with intense woody and slightly nutty flavour notes.
In fact New Zealand's unique flora results in a wide range of different honey flavours and our local honey producers are making the most of this uniqueness. Mono-floral (single flower) honeys are  increasingly popular and honeys available include Beechwood, Pohutakawa, Kamahi, Rata, Tawari, Rewarewa and also honey made from imported field flora such as clover and thyme and various wild flowers (such as bugloss). The diversity of the New Zealand honey range is quite outstanding.
Honey colour ranges from almost colourless to dark amber brown.  In general, honeys from forest floral sources are darker in colour and richer in flavour while honeys from field floral sources are lighter in colour with a delicate fine flavour. And honey, of course, can be presented in a variety of forms including comb, liquid and creamed.
NZ Honey brands available from Moore Wilson's Fresh include Arataki (Hawkes Bay), J Bush and Sons (Blenheim), Earthbound (Auckland), J Friend & Co. (Christchurch), Local Flavour (Wellington), and Silverstream (Upper Hutt).
There are many wide and varied uses for honey including:
FOOD
The most common use of honey is to simply serve it on bread or toast. Increasingly popular is a little honey mixed with your breakfast muesli
It is also widely used as sweetener in baking, as an ingredient in glazes, or as a flavourful addition in Asian dishes
Use to sweeten your homemade nut milks
For something different, try infusing your honey with different flavour combinations like ginger and lime or apple cider and dried figs
HEALTH
Honey is a natural antiseptic so will help to heal wounds, cuts, scraps and burns
Combine with the juice of one lemon to sooth sore throats and coughs
Combine equal parts honey, vinegar and water and drink to remove parasites
BEAUTY
Use as a moisturizer, simply rub on to dry or patchy skin and let it sit for around 30 minutes before washing off
Add a teaspoon to your normal shampoo to help smooth damaged locks
Relax and soak your skin in a soothing honey bath – dissolve 2 tablespoons of honey in 1 cup hot water and add to your bath along with a couple of drops of lavender oil
Combine 2 teaspoons of milk with 2 tablespoons of honey for a natural face mask. Cover your face and let it sit for 10 minutes before washing off